Flooding researcher shortlisted for Guardian University Awards
Release Date 01 March 2016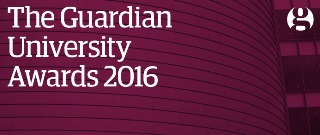 A University of Reading scientist has been nominated in the research impact category for the Guardian University Awards.
Professor Hannah Cloke, a hydrologist from the Department of Geography and Environmental Science and Department of Meteorology, has been shortlisted by judges for research that has helped create an effective global early warning system for flooding.
Her research is up against projects from Newcastle and Bradford universities. The winners will be announced at an award ceremony in London on 16 March.
Professor Cloke's 'Water Cycle' project, which was run in conjunction with the Reading-based European Centre for Medium-Range Weather Forecasts (ECMWF), has already begun to yield results, helping aid agencies respond to flooding disasters more quickly - sometimes even before it has started raining.
Dr Phil Newton, Dean of Research for Environment at the University of Reading, said: "Very many congratulations to Professor Cloke on being shortlisted for the Guardian University Awards.
"Hannah's work epitomises our ambitions for research at Reading. It is collaborative, of very high quality, and draws on our strong tradition of excellence in its field. Most notably, it puts academic discovery to use and makes a real difference to people's lives around the world."
Among one of the outcomes of Professor Cloke's research is the Global Flood Awareness System, which helps aid agencies to respond to flooding disasters around the world.
Coupled with a new system of disaster management financing, it successfully began operation in November 2015, when the Ugandan Red Cross delivered disaster preparedness packs to 5,000 people in Uganda at risk of impending floods, helping to stop the spread of water-borne disease.