Memoirs of UK's first female professor to be published
Release Date 08 March 2016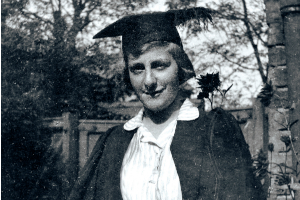 The memoirs of Edith Morley, the first British female professor are published to coincide with International Women's Day and the University of Reading's 90th anniversary celebrations.
In 1908, Edith Morley was appointed professor of English language at University College, Reading (now the University of Reading). Her memoirs, Before and After: Reminisces of a Working Life, recount Edith's fight for women's rights and her involvement with the early feminist movement.
The memoirs also give a moving account of the struggles endured by Belgian Jews fleeing Nazi Germany as well as vivid descriptions of a late Victorian childhood.
Born in 1875 into a middle-class Victorian family, the book recall women's struggle for equality in higher education:
"I was the first women to obtain the title of Professor at a British university or university college. In the circumstances it may justly be inferred that this was no cause of personal gratification or pride. But that it was of service to the position of university women is a fair assumption. The first step had been taken."
The book includes a foreword by leading classicist Professor Mary Beard.
She said: "Every woman now working in British universities - or in any other profession, for that matter - will recognise Edith Morley's story, told in this wonderfully direct memoir.
"It remains a credit to the new University at Reading that it broke convention and gave Morley a chair. It is perhaps even more of a credit to Morley herself that she stood up those conventions and claimed the recognition due to her."
Alison Donnell, Professor of Modern Literatures in English and Head of the School of Literature and Languages, said: "Morley's professional dedication and personal determination resulted in a history-making challenge to institutional structures and mind-sets and it is a credit to Reading that it was able to sustain the robust dialogues that finally made her equal recognition possible.
"Yet it is also telling that while Professor Morley strongly resisted being professionally defined by her gender, it is her achievements as a woman and not a scholar or teacher that strike most keenly with our own times and the ongoing struggles for equality in pay, promotional prospects and institutional influence. Over a century after Morley's appointment as the first female professor, the UK academy still has less than 20 black women professors."
Sir David Bell, Vice-Chancellor at the University of Reading, said:
"Edith Morley broke new ground. Despite decades of social progress, her fight for recognition and equality with her male colleagues still strikes a chord with women in academia today. Her story motivates and inspires us to lead, and not simply follow, social change."
Before and After: Reminisces on a Working Life has been edited by Barbara Morris at Two Rivers Press and is available to buy from Thursday 10 March (ISBN 9781909747197).
In memory of Edith Morley, the University of Reading will host a special event, 'in conversation with Karen Blackett OBE' on Tuesday 8 March. In 2014, Karen Blackett became the first woman to top the PowerList 100 of most influential black Britons, and was awarded an OBE for services to the media communications industry.