University of Reading marks its 90th anniversary
Release Date 17 March 2016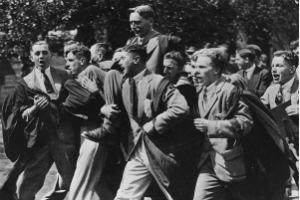 The University of Reading will today mark its 90th anniversary with a series of events to mark its landmark anniversary.
The University was established by Royal Charter on 17 March 1926, becoming the 11th university in England and was the only UK university to be created between the two world wars.
It is now one of the UK's leading research intensive institutions, with 17,000 students, from 150 countries with award-winning campuses in the UK, a stunning new state-of-the-art campus in Malaysia and Henley Business School Africa in Johannesburg.
It came after the University began life as the Schools of Art and Science which were established in Reading in 1860 and 1870 respectively. In 1892 University College, Reading was born as an extension college to Oxford University.
Today's events include:
An official Guinness World Records® attempt for the 'most simultaneous human cradle lifts' by students and staff. It mirrors a famous photograph from the University's inauguration in 1926 when students lifted the University's first Vice-Chancellor, William Macbride Childs, was lifted to celebrate the granting of the Royal Charter.
A lunchtime celebration will then take place in the main quad on the Whiteknights campus in Reading, with the University Big Band providing entertainment, followed by the formal cutting of the anniversary cake and refreshments.
A special meeting of the University Court is taking place in the evening at the Great Hall, at the University's original London Road campus, led by Chancellor Sir John Madejski, with speeches by the Vice-Chancellor and reading by Oli Ratcliffe, President of Reading University Students' Union.
The ceremony will see the presentation of three honorary degrees to Helen Gordon, Professor Haiyan Hu and Andrew Palmer CMG. CVO.
The ceremony will also premiere a new film marking the 90th anniversary with current and past academics, students and staff setting out nine decades of history and achievement.
University of Reading Chancellor Sir John Madejski said:
"This historic event will be commemorated by our staff, students and graduates alike as we look forward to another 90 years of high quality education and world-changing research.
"Reading is already ranked firmly in the top 1% of universities worldwide, and its international reputation continues to grow. As we reflect on this milestone, we also celebrate the opening of a new overseas campus, providing UK degrees from our stunning new facility in Malaysia.
"I am proud to be involved with such a forward-thinking institution, and I look forward to seeing the University of Reading continue to go from strength to strength in the years ahead."
Vice-Chancellor Sir David Bell will say in his University Court speech:
"The small community that was the University of Reading in March 1926 would not have dared to dream that their institution, a century later would be among the top 200 universities worldwide or anticipated that we would have campuses in Malaysia and South Africa, research and teaching partnerships the world over, as well as a truly international community of staff and students
"The University has always sought to be ahead of our time; breaking boundaries in science, the arts and humanities, and the social sciences. We have influenced developments in industry, commerce, civil society and within academia itself. We have sought to educate our students well - not just for a career but for a rewarding, fulfilling and meaningful life.
"This work, and much more besides, has gone - in the words of our first Vice-Chancellor, William Macbride Childs - towards 'making a university'. That can never be, attributable to a single individual or even a small group. All of our staff, students, alumni and friends are partners in 'making' the University of Reading and doing all that we can to pass it on safely to future generations.
"For all those that have gone before, we pay tribute to them and solemnly recognise our responsibility as stewards of their legacy. The 'making' of a university was not a moment fixed in time. It is a perpetual intellectual project and we take encouragement too from the knowledge that the generations to come will have new energy, passion commitment and insights to drive our university forward."