Three honorary degrees mark Reading's 90th anniversary
Release Date 17 March 2016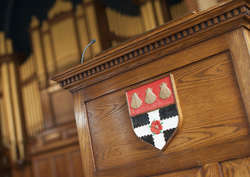 As part of its 90th anniversary celebrations, the University of Reading has awarded three honorary degrees at a ceremony on its London Road campus today.
The ceremony at the University's Great Hall saw Helen Gordon, Chief Executive of the Royal Pharmaceutical Society, Professor Haiyan Hu, President of Beijing Institute of Technology in China and Andrew Palmer CMG CVO honoured.
Helen Gordon – awarded an honorary Doctor of Science
With a career in healthcare spanning 33 years, Helen Gordon trained as a nurse before progressing through a number of clinical and managerial positions in hospitals including Chief Executive at Hillingdon Hospital and Queen Mary's Sidcup NHS Trust. Helen went on to become Chief Executive of the Royal College of Obstetricians and Gynaecologists in 2005 and joined the Royal Pharmaceutical Society in July 2010.
For the past eight years, Helen has contributed to higher education as a Governor at Ravensbourne College and has chaired the Alumni Relationship and Development Advisory Board at Henley Business School since its creation in 2013. Helen holds a master's degree in Business Administration from Henley Business School and was awarded an Honorary Fellowship of the Royal College of General Practitioners in November 2013.
Professor Haiyan Hu – awarded an honorary Doctor of Science
Professor Haiyan Hu is a world renowned scientist in applied mechanics and became a Doctor of Engineering at Nanjing University of Aeronautics and Astronautics (NUAA) in China in 1988. His subsequent roles have included Humboldt Research Fellow at the University of Stuttgart in Germany, Visiting Professor at Duke University in the USA, Professor of Applied Mechanics at NUAA, and Vice-President and President of NUAA, successively.
Since 2007, Professor Hu has served as the President of Beijing Institute of Technology in China and has made recognised contributions to the dynamics and control of aerospace systems.
He has also authored and co-authored two monographs and 220 journal papers. In addition to this he received the State Award of Science and Technology Progress in 2005 and the State Award of Natural Science in 2006. He was elected Fellow of the Chinese Academy of Sciences in 2007 and Fellow of the World Academy of Sciences in 2010. He was awarded an honorary doctorate by Moscow State University in Russia in 2015.
Andrew E Palmer CMG. CVO – awarded an honorary Doctor of Letters
Andrew Palmer is part of the Palmer family who played a leading role in the earliest days of the University. Andrew serves as a member of the University Court, on the committee for the Museum of English Rural Life (MERL) and as Chairman of the Friends of the University.
He is also Patron of the Palmer Society, the University's legacy society and a Visiting Fellow of the School of Politics, Economics and International Relations (SPEIR). Following his education at Cambridge University and after completing military service, Andrew served in HM Diplomatic
Service for 34 years. During his service, his roles included Ambassador to Cuba, Private Secretary to the HRH the Duke of Kent, and Ambassador to the Holy See in Rome.
As well as being a member of the Council of the University of Reading until 2008, Andrew has also been a long-serving member of several committees and other council-related bodies. He has chaired joint committees on fundraising priorities and on the University's millennium celebrations and has been a member of the Development Board, as well as boards reviewing the Court and Halls of Residence.
Andrew was appointed a Commander of the Royal Victorian Order (CVO) in 1981 and a Companion of the Order of St Michael and St George (CMG) in 1987. He is also an author and contributor of several published works.
Commenting on the award of the honorary degrees, Vice-Chancellor Sir David Bell, said:
"It is with great pleasure that the University of Reading presents Helen Gordon, Professor Haiyan Hu and Andrew Palmer with honorary degrees.
"In marking our 90th anniversary of being granted our Royal Charter, we recognise the outstanding contributions made by these distinguished graduates.
"It is fitting that as we pass this historic milestone, the three individuals receiving honorary degrees represent some of the strongest aspects of Reading's ethos: academic excellence, public service, and global outlook. We are delighted to be honouring them in this way."