Reading joins UK top 20 in student experience survey
Release Date 22 March 2016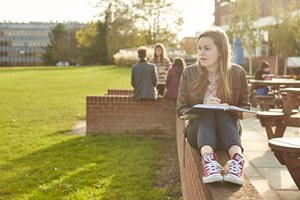 The University of Reading has one of the best campus environments in the UK, and offers the second best student experience overall in London and the South East, according to a survey of undergraduates.
In the latest Times Higher Education (THE) UK Student Experience Survey, Reading was 20th in the UK out of 117 institutions ranked overall - its highest ever position in the survey.
In the measure for 'good environment on campus/around university', Reading was third equal best university in the UK - reflecting the university's continuing commitment to invest in its award-winning green spaces and welcoming campus atmosphere.
Reading was rated as the second-best university for student experience across both the London and South East of England regions, behind only Oxford University.
Top 10 students' union
Reading's students' union, RUSU, was also rated in the top 10, receiving the joint eighth highest score in the country.
The THE Student Experience Survey, now in its 11th year, measures a broad definition of student experience as expressed by students themselves. This includes the aspects of university life that matter most to them, such as social life, affordable shops and bars, and quality of student facilities, the survey organisers say.
John Gill, editor of Times Higher Education, said: "Students are becoming more professional in their approach to their studies. They are investing more in their education and are far more clear-eyed in what they expect from their university.
"What's more, with the greater choice available of where to study following the abolition of the student numbers cap, universities are competing to secure students - and their tuition fee income - to a far greater degree than they used to, meaning students' expectations now have to be met."