Review outlines issues facing soil scientists
Release Date 23 March 2016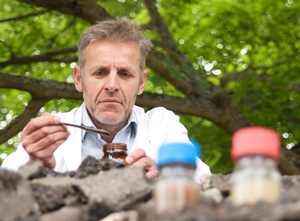 Measuring the quality and value of our soils is critical to protecting our environment and food supply, according to a government-commissioned review.
The Soil Security Programme, coordinated by a team based at the University of Reading, was commissioned by Defra (the UK Department for Environment, Food and Rural Affairs) in conjunction with ADAS Ltd to undertake a review of soil science evidence to support policy on sustainable soil management.
The review focused on the key services that soil provides: ensuring water quality and protection from flooding, farming production, and mitigation against climate change.
The main objective of the project was to determine the volume and characteristics of the evidence base available to address research questions on sustainable soil management, and to provide an overview of this material.
The review authors focused on
Development of quality indicators for the range of services provided by soil
Understanding soil degradation
Understanding how soil should be managed sustainably
Assessing the economic value of soil ecosystems
Mapping evidence gaps and establishing priorities for new research
The report, launched by Professor Ian Boyd, the Chief Scientist for Defra, on 17 March 2016, presents the results of this review.
The report highlighted a lack of a soil quality indicators to measure the ecosystem services that soil provides. It also demonstrated that there is no established methodology for measuring the economic benefits that soils provide.
The first of these issues will be addressed at a workshop at the University of Reading in April. Representatives from across all sectors will attend to produce an agreed view on the definition of soil health, and the most appropriate indicators of soil health for a range of landscapes.
These will be used to address both practice and research priorities by delivering a guidance note to Defra, AHDB, and the Welsh and Scottish Governments.
Professor Chris Collins, of the University of Reading and coordinator of the Soil Security Programme, said: "We know soil is critical to the health of humans and the natural environment, but at the moment we don't have the right tools to tackle the many issues facing the health of our soils.
"This report highlights the steps that governments and scientists need to take to improve our management of soils. Once this is agreed, we can begin the work that shows the way forward to make Britain's soils as productive and resilient as possible."