Reading bolsters academic reputation in latest league table
Release Date 23 March 2016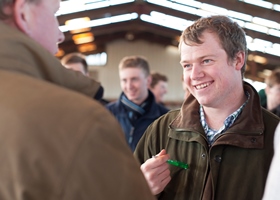 The University of Reading is the best university in the UK for agriculture and ranks among the world's top 200 higher education institutions in 14 subject areas in this year's QS World University Rankings by Subject 2016.
The successes reflect Reading's overall rise in the main QS World University Rankings 2015-16, in which the University is currently ranked at 156 in the world - firmly within the top 1% of higher education institutions globally.
Reading is ranked internationally at (UK ranking in brackets)
12 for Agriculture (1 in UK)
29 for Archaeology (8)
42 for Development Studies (13)
Top 100 for Environmental Sciences (12) and Geography (24)
Top 150 for Linguistics (17) and English Language & Literature (28)
Top 200 for Philosophy (22), Modern Languages (25=), Accounting & Finance (23), Business & Management Studies (24), Education (27), Economics & Econometrics (19) and Law (26=)
Professor Julian Park, Head of the School of Agriculture, Development and Policy, said: "This result confirms our reputation as one of the best institutions in the world for the study of agricultural production, food security and climate change. As well as reflecting the excellence of our staff and students, this position is aided by the enviable environment in which we work, and Reading's long-standing reputation across agriculture, horticulture, food and nutrition, and meteorology."
Professor Gavin Brooks, Pro-Vice-Chancellor for Teaching and Learning at the University of Reading, said: "I am delighted that the University has once again shown great strength in depth, with successes across the arts, social sciences, sciences and business. As well as Reading's continued high reputation in agriculture and development, it is particularly pleasing that the new rankings recognise our excellence in archaeology, which is considered as a separate subject for the first time."
The QS World University Rankings By Subject are based on measures of academic reputation, the employability of graduates as rated by major employers, and citations for published research.