University of Reading selects new Chancellor
Release Date 24 March 2016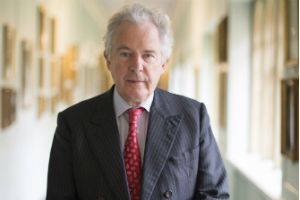 At a meeting of its Council on Monday 21 March 2016, The RT Hon. The Lord Waldegrave of North Hill PC - William Waldegrave - was appointed as the University of Reading's next Chancellor.
Lord Waldegrave will succeed Sir John Madejski, the University's Chancellor since 2007, in December 2016.
Lord Waldegrave was born on 15 August 1946 and educated at Eton College, Corpus Christi College, Oxford and Harvard University. In 1971 he was elected a Prize Fellow of All Souls College, Oxford, and is now a Distinguished Fellow.
William Waldegrave was elected to Parliament in 1979 and entered Margaret Thatcher's government as Parliamentary Under-Secretary with responsibility for universities and science in the Department of Education and Science.
Lord Waldegrave went onto hold a number of Cabinet positions in the Thatcher and Major governments including Secretary of State for Health, Secretary of State for Agriculture, Fisheries and Food and Chief Secretary to the Treasury. When Chancellor of the Duchy of Lancaster, he was Minister of Science, the only one at Cabinet level in modern times. He was made a Life Peer in 1999.
After leaving the House of Commons, Lord Waldegrave has pursued a number of roles. Currently, he is Chairman of Biotech Growth Trust plc, Chairman of Coutts and a Director of Waldegrave Farms. He is also Provost of Eton College.
Commenting on the appointment of Lord Waldegrave, Christopher Fisher, President of the University of Reading Council said:
"I am delighted that William Waldegrave has agreed to become the University's next Chancellor. He brings to us a strong commitment to education and science and a distinguished career in public life.
"Alongside his personal interests in agriculture, food and the environment, William is an instinctive internationalist. Together these attributes will be of great value to the University.
"The University has been very well served by Sir John Madejski, its present Chancellor, and we look forward to him continuing to preside over our affairs for the remainder of this, our 90th anniversary, year."
Lord Waldegrave said:
"I am very proud indeed to be chosen as Reading's Chancellor. I have big shoes to fill, following John Madejski and before him Peter Carrington. I have enormous respect for what Reading has achieved in its first 90 years. It is now established as one of the world's leading universities, and it is a privilege to be offered the chance to help with the next stage of its development."
Current Chancellor Sir John Madejski commented:
"I am delighted to welcome Lord Waldegrave as my successor as Chancellor of the University of Reading. The University is very fortunate indeed to have attracted someone of his calibre to take up this crucial role.
"Being Chancellor of the University of Reading has been, and continues to be, one of the greatest honours of my life. To serve as Chancellor in the University's 90th anniversary year has been an added bonus and a very special privilege. I look forward to the remainder of 2016 and being able to serve this outstanding University which I have come to know and love over the past nine years."