Reading chemist wins prestigious Royal Society of Chemistry award
Release Date 09 May 2016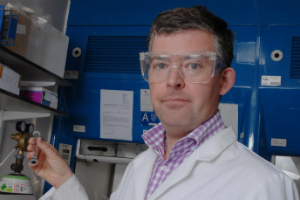 Professor Ian Hamley from the University of Reading has won the Royal Society of Chemistry's 2016 Peter Day Award.
The Peter Day Award is for outstanding contributions to, and advancement of, the field of materials chemistry. Ian receives £2,000 in prize money, a medal, and a certificate.
Professor Ian Hamley works on polymers and peptides - which are small protein-like molecules - towards the potential development of therapies for conditions including Alzheimer's and obesity. His work also looks at the development and study of collagen-stimulating molecules, for the creation of new biomaterials with potential applications in wound healing.
An illustrious list of 47 previous winners of the Royal Society of Chemistry's Awards have gone on to win Nobel Prizes for their pioneering work, including Harry Kroto, Fred Sanger and Linus Pauling.
On learning he had been recognised with the award, Ian said: "I am absolutely delighted, as this is a very prestigious award and a great honour in recognition of a lot of hard work by my group over the years."
Dr Robert Parker, chief executive of the Royal Society of Chemistry said: "It is an honour to recognise the illustrious achievements of our prize and award winners in our 175th anniversary year.
"We were founded in 1841 by a group of academics, industrialists and doctors who understood the power of the chemical sciences to change our world for the better. Our winners share that vision and are advancing excellence in their fields, whether through innovative research or inspirational teaching and outreach.
"We are proud to celebrate and support the work of inspiring and influential individuals, whose work has the potential to improve so many lives."
Award winners are evaluated for the originality and impact of their research, as well as the quality of the results which can be shown in publications, patents, or even software. The awards also recognise the importance of teamwork across the chemical sciences, and the abilities of individuals to develop successful collaborations.
More information on Royal Society of Chemistry prizes and awards, visit http://www.rsc.org/awards-funding/awards.