Izzard to face Tory MEP at Reading referendum debate
Release Date 19 May 2016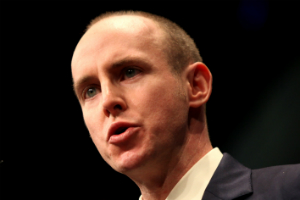 Eddie Izzard will face Daniel Hannan MEP at the University of Reading and Reading University Students' Union EU referendum event on Tuesday 24 May.
The Conservative Member of European Parliament for South East England will be presenting the case for Britain leaving the EU, with actor and comedian Eddie Izzard arguing the case to remain.
Daniel Hannan is a high-profile Eurosceptic politician and has led campaigns for Britain to withdraw from the EU since his election to the European Parliament in 1999.
The event will be the first time Eddie Izzard faces opposition on his Stand Up For Europe campaign tour with Reading the second leg of 31 cities in 31 days across the UK.
The 500 places available for the event at the Reading University Students' Union were fully booked within a few hours of being advertised and will be live-streamed through the University's social media channels.
Sir David Bell, Vice-Chancellor of the University of Reading, said: "We are delighted to confirm Daniel Hannan as the second big name for our EU referendum event, alongside Eddie Izzard. Everyone attending on 24 May will have a great opportunity to hear the arguments on both sides of this crucial debate.
"The University and the Students' Union are encouraging students to register to vote in the referendum. We look forward to welcoming Eddie and Daniel to Reading, and expect an engaging evening for those attending and taking part online."
The University will be streaming the entire debate live on Periscope and Twitter @UniofReading or via desktop at www.periscope.tv/uniofreading.