Subjects make gains in Guardian University Guide 2017
Release Date 24 May 2016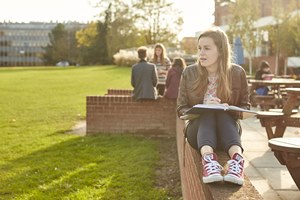 The University of Reading has been ranked at 32 in the UK in the Guardian University Guide 2017, published this week.
The guide, which ranks 119 institutions across the country, puts Reading ahead of eight Russell Group universities and highlights several subject areas where Reading is considered one of the best in the country.
Among other highlights:
Reading has risen into the top 10 for 'spend per student', reflecting the university's continuing investment in teaching and learning facilities.
Eight subject areas are now in their respective national top 10s (up from five in 2016): Accounting (9th), Agriculture (3rd), Building and Town and Country Planning (3rd), Design and Crafts (5th), Earth and Marine Sciences (8th), Education (8th), Film Production (5th), and English and Creative Writing (10th).
Among the biggest improvements in subject areas, Film Production and Photography jumped up to 5th from 11th last year, Modern Languages and Linguistics rose 13 places to 23rd, and Philosophy leapt up 11 places to 18th.
The Guardian University Guide focuses on student satisfaction surveys and an assessment of services, rather than on indicators of research quality. Key indicators include the latest National Student Survey results, spending per student, student/staff ratio, graduate career prospects, and a value-added score based on average final degree results compared to entry qualifications.
The results are the latest published league table of UK and world universities. In other recent guides, Reading has been ranked as 27 out of 127 institutions in the UK by the Complete University Guide 2017, and at 164 in the world according to the Times Higher Education World University Rankings 2015-16, putting Reading firmly in the top 1% of universities globally.
Vice-Chancellor Sir David Bell said: "This latest result shows Reading is consolidating its position at the top end of the national league tables. Our academic and professional support staff deserve praise for their hard work, which makes Reading one of the best universities to study in the world.
"While individual positions tend to fluctuate from year to year, it is clear that the longer-term picture is one of overall improvement. We are focused on making sure that we provide the highest quality university experience for all our students, both now and in the future."
The University of Reading's next Open Days are taking place on Friday 17 and Saturday 18 June. To book your place, visit our Open Days website.