University of Reading new home for European earth monitoring services
Release Date 26 May 2016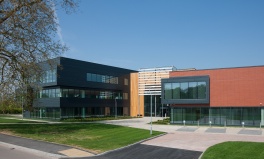 The University of Reading is now the proud home of the European Centre for Medium-Range Weather Forecasts (ECMWF) Copernicus Department, part of a flagship programme to monitor the earth.
ECMWF's Copernicus Services, part of the European Union's Earth Observation Programme, have taken up residence on the Whiteknights Campus in Reading, leasing 8,300 sq ft approx. and bringing 50 experts to the campus, joining other weather organisations including the Met Office, National Centres for Atmospheric Science and for Earth Observation, the Institute of Environmental Analytics and the Walker Institute for Climate Research.
The ECMWF team will be joining the Enterprise Centre on the University campus, based alongside leading academics nearby at The School of Mathematical and Physical Sciences whose departments lead in meteorology, weather science and climate research.
Christopher Reeve, Property Services Director for the University of Reading said:
"We look forward to building on our relationship with ECMWF and making them welcome, and we hope that the proximity of all the weather and climate expertise functions now based in this location at Whiteknights Campus will enhance innovation, networking and interaction opportunities within this important sector.
"Assisting ECMWF choose to locate this growing Department onto the campus has been an exciting project; the accommodation solution we put forward both wins their presence on campus and generates a valuable rental income stream for the University."
Florence Rabier, Director General of ECMWF said:
"Using offices within the University of Reading to relocate our newly created Copernicus Department was a very natural idea for all of us at ECMWF. We are of course neighbours, but more than that, there are many scientific affinities between our two organisations; from the scientists to scientists' contacts, to the joint participation in major international projects or educational programmes, we've been enjoying years of good scientific neighbourhood.
"The REC staff and more broadly University of Reading family have made us feel welcome and we are grateful to them for that." "This announcement builds on the University's position as a world leading centre of excellence for weather science expertise."
ECMWF delivers the Copernicus Climate Change and Atmosphere Monitoring Services, to bring consistent standards to how Europe measures, forecasts and predicts atmospheric conditions and climate change. Copernicus monitors the Earth's environment using in-situ observations from land, sea and air as well as a network of dedicate satellites and makes the data freely and openly available. As well as providing evidence for governments to act on pollution and climate change, the services aim to kick-start the climate data economy by helping companies to develop products and services with the unprecedented amounts of new information.
More information about Copernicus can be found at:
http://www.ecmwf.int/en/about/what-we-do/copernicus
More information about the Enterprise Centre can be found at:
http://www.tvsp.co.uk/