University of Reading hosts Davis Cup Trophy Tour
Release Date 27 May 2016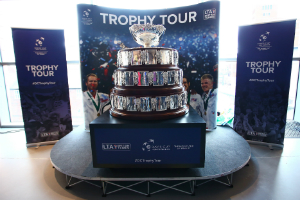 The University of Reading marked its investment in the future of tennis today by hosting the Davis Cup Trophy Tour at its SportsPark.
The University welcomed 120 local schoolchildren and members of the local community to take part in tennis coaching sessions before having their photograph taken with the prestigious Davis Cup Trophy.
The event marks the University's planning applications for refurbished tennis facilities and a brand-new tennis dome on the Whiteknights campus.
The University and the Lawn Tennis Association (LTA) plan to jointly fund the new tennis dome which will see three new hard-surface tennis courts being built in an all-weather facility.
In addition, the University's five existing hard courts will be refurbished, offering improved facilities to students and the local community.
Iain Akhurst, Director of the University of Reading SportsPark, said: "The proposed facilities will offer future generations a chance to play tennis in top-class facilities all year round.
"The tennis dome will be accessible to students and members of the community in all weathers, meaning that this is a true investment in the future of tennis in Reading.
"We are delighted to host the Davis Cup Trophy to be able to mark this investment and it is pleasing that so many from the local community joined us to celebrate this."
Planning applications for the project will be considered by Reading Borough Council next week and if granted, proposed construction will begin this summer. It is hoped the new facilities would be ready in the autumn.