Reading in the news - Tues 1 November
Release Date 01 November 2016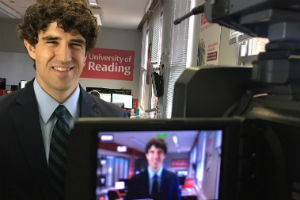 Here's Tuesday's summary of media coverage for the University of Reading.
Colombian state visit: Dr Tom Long (Politics & International Relations) spoke live to Sky News about the UK state visit of Colombian president Juan Manuel Santos.
Jet streams: Prof Sue Gray (Meteorology) discusses new observations carried out on jet streams across the Atlantic on BBC Lincolnshire.
Halloween: Prof Anne Lawrence-Mathers (History) spoke to BBC Berkshire about the history of Halloween.
Sharia councils: Reading research on the number of Sharia councils existing in Britain is referenced at BBC News. The research is also mentioned on BBC Radio 4.
Nurseries: Dr Helen Bilton (Institute of Education) comments on a report calling for thousands of additional nursery school teachers on BBC Berkshire.

Other topics:
Business bribery

: Prof Andrew Kakabadse (Henley Business School) was quoted in articles in The Telegraph and The Business Magazine looking at research that revealed many managers are using bribes when trading overseas. Covered in further trade titles.

Protein supplements

: MSN Philippines covers research from Reading that suggests protein supplements could improve cardiovascular health. Read our news story.

Jesus' tomb

: Dr Ken Dark (Economics) comments on the discovery of a tomb said to have belonged to Jesus Christ at True Viral News.

Royal mystery

: Prof Kate Williams (History) discusses a mystery surrounding George I at Latin Post.

Stonehenge

: Katy Whitaker comments on the source of the stones at Stonehenge in The Tribune.

The MERL

: University Archivist Guy Baxter comments on a surge of interest in heritage craft at the Museum of English Rural Life in the latest Observer Magazine (attached). The Morning Star also tells the story of countryside life depicted at The MERL which shows the historic struggle of those living in rural areas.