Training boost for Reading students thanks to research funding
Release Date 14 November 2016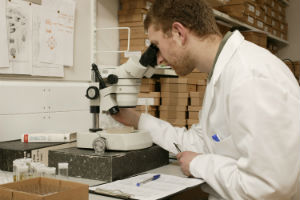 The next generation of scientists at the University of Reading is set to benefit from two new awards from BBSRC to provide funding for PhD students to train in key areas of research in agriculture.

Reading has been named as one of the institutions to benefit from £18.9m funding awarded by BBSRC (Biotechnology and Biological Science Research Council) to a variety of partnerships. The scheme is expected to provide training for 189 PhD students at various institutions each year, under three themes: sustainable crop production; sustainable soil and water; and, biodiversity and ecosystem services in agriculture.

In total, 10 partnerships carrying out important scientific research will be supported, and Reading is involved in two of these.

The first of these, led by Waitrose, focuses on crop production, sustainable soil and ecosystem services and involves the universities of Warwick and Lancaster, and Rothamsted Research.

The second will focus on fruit crop research and is led by Berry Gardens. It involves the universities of Nottingham and Cambridge.

Both awards will start to fund students from September 2017 and will run for three years.

Dr Karen Lewis, BBSRC Executive Director, Innovation and Skills said: "Bioscience impacts on our lives in many ways. BBSRC strives to harness the power of bioscience to deliver a healthy, prosperous and sustainable future for the UK and beyond.

"To achieve this we need to maintain our leading position in global bioscience by ensuring that the next generation of scientists have the best training and skills and Collaborative Training Partnerships will play a key role in achieving this."