Literature professor chairs Jewish book prize
Release Date 16 November 2016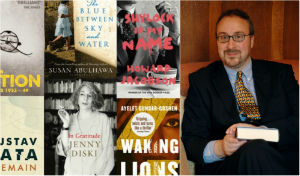 Fourteen books have made the longlist of a major book prize chaired by Bryan Cheyette, Professor of Modern Literature at the University of Reading.
The 2017 Jewish Quarterly Wingate Prize has generated an innovative and diverse longlist of fiction and non-fiction from authors around the world, as it marks its 40th anniversary.
The 14-strong list includes six novels as well as a multi-faceted mix of histories, memoirs and biographies, which throw new light on past and present events.
Established in 1977, the annual prize, worth £4,000 and run in association with JW3, is awarded to the best book, fiction or non-fiction, to translate the idea of Jewishness to the general reader.
The longlisted books are:
The Blue Between Sky and Water by Susan Abulhawa
The Crime and the Silence by Anna Bikont
Their Promised Land: My Grandparents in Love and War by Ian Buruma
Raoul Wallenberg: The Biography by Ingrid Carlberg
Final Solution: The Fate of the Jews 1933-1949 by David Cesarani; In Gratitude by Jenny Diski
Waking Lions by Ayelet Gundar-Goshen
After One Hundred and Twenty: Reflecting on Death, Mourning and the Afterlife in the Jewish Tradition by Hillel Halkin
The Making of Zombie Wars by Aleksandar Hemon
Shylock is My Name by Howard Jacobson
All for Nothing by Walter Kempowski
East West Street by Philippe Sands
The German War: A Nation Under Arms by Nicholas Stargardt
The Gustav Sonata by Rose Tremain.
'Issues that connect with concerns of present-day reader'
This year's judging panel comprises award-winning playwright Amy Rosenthal; Granta Best of British Young Novelist Joanna Kavenna; Jewish Quarterly Literary Editor and translator Natasha Lehrer and Professor of Modern Literature Bryan Cheyette.
Chair of judges Prof Cheyette said: "We are delighted with the 14 strong longlist that we have chosen out of 70 entries.
"The entries this year were of a very high calibre and we debated long and hard over who to include on the list. However, we believe we have a long-list which is diverse and of an enormously high quality, reaching across a variety of genres and countries.
"It is a list which encompasses some great novels – comedies and literary thrillers, as well as more elegiac, lyrical fiction, by Bosnian-American, British, Israeli, Palestinian and German authors.
"There is also a rich selection of innovative non-fiction - World War Two histories told from a German viewpoint, or told from the perspective of the Jewish victims of the Holocaust; powerful accounts of post-war Polish attitudes to Jews; as well as definitive biographies and compelling historical memoirs.
"Many of the themes and histories covered are live issues which will connect directly with the concerns of the present-day reader."
The 2017 prize winner will be announced on February 23 at JW3 during an event at to mark 40 years of the JQ Wingate Prize. For more information, visit www.Jw3.org.uk.
The Jewish Quarterly Wingate Prize is the only UK literary prize of its kind and attracts nominations from all over the globe. Previous winners include Amos Oz, Zadie Smith, Oliver Sacks, Otto Dov Kulka, David Grossman and Naomi Shepherd.
Professor Bryan Cheyette FEA
Bryan Cheyette is a Fellow of the English Association and Chair in Modern Literature at the University of Reading. He has appeared on television and radio and has spoken at literary festivals, book stores, and large public events. He reviews fiction and history regularly for several British newspapers, and has published nearly one hundred essays on film, theatre, and fiction for the Times Literary Supplement.
He has lectured widely throughout the United States and Europe and has held visiting positions at Dartmouth College, the University of Michigan, and the University of Pennsylvania. He also holds fellowships at the Universities of Leeds and Southampton. He was a founder of the research fields of literary antisemitism, and of Anglo-Jewish literary studies, and was the first to teach courses on Holocaust Testimony in the UK.
He has authored or edited ten books most recently Diasporas of the Mind (Yale UP, 2014), which was a Times Higher Book of the Year, and, as editor, an Oxford History of the Novel (Oxford UP, 2016). He is also a Series Editor for Bloomsbury (New Horizons in Contemporary Writing) and has published over sixty essays from T. S. Eliot to Bob Dylan and from Schindler's List to Philip Roth. His next book will be on Israel Zangwill.