Scientists design new material that could both capture CO2 emissions AND turn them back into fuel
Release Date 16 November 2016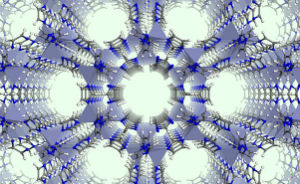 A new type of super-material that could capture carbon dioxide (CO2) emissions and turn them into fuel using only sunlight has moved a step closer to reality.
Scientists at the University of Reading have used supercomputers to design hypothetical materials with the precise molecular structure needed to absorb CO2 and convert it to cheap fuel.
The photocatalyst materials would not only remove harmful CO2, released when fossil fuels are burned, from the atmosphere, but would also convert them into useful chemicals like methanol, which in turn can be used again as a fuel or in other applications.
The study, conducted by a team in Reading's Chemistry Department and collaborators in Spain, and published in Angewandte Chemie International Edition, paves the way for experiments to create the new porous photocatalysts for real. The proposed materials are based on a precise combination of metals and organic molecules.
Dr Ricardo Grau-Crespo, who led the research, said: "This might look like science fiction, but the possibility of synthesizing these versatile materials is very real, and could be achieved within a year based on our designs.
"Capturing CO2 emissions and turning them into fuel as separate processes is already possible, but a material that could do both would be a game changer.
"Our work offers a route to a 'one-pot' solution for storage and conversion of CO2 that would save time and money - as well as help protect the environment."
Mimicking photosynthesis in plants
This latest research builds upon earlier work by the team, where the organic component of the photocatalysts was chosen to mimic the pigments responsible for photosynthesis in plants.
In the current work, the team found that superior properties could be achieved by using simpler organic molecules, but combined in a clever way alongside metal atoms, which allows fine-tuning of the electronic structure.
Using supercomputer simulations based on quantum mechanics, the research team narrowed down many possible combinations of metal and organic material to just two structures that were predicted to be the most effective. The team hopes experiments will follow to produce and test either one or both of the materials.
The usefulness of the materials may even extend beyond just CO2 conversion. It could theoretically absorb solar energy to split water into oxygen and hydrogen elements, which could then be recombined in fuel cells to produce energy and water.
R. Grau-Crespo, A. Aziz, A. W. Collins, R. Crespo-Otero, N. C. Hernandez, L. M. Rodriguez-Albelo, A. R. Ruiz-Salvador, S. Calero, S. Hamad. (2016) 'Modelling a linker mix-and-match approach to engineering the optical excitation gaps and band alignment of zeolitic imadazolate frameworks'. Angewandte Chemie International Edition. DOI: 10.1002/anie.201609439.