Hear the bloody story of the Baltic Crusades on BBC Radio 4
Release Date 21 November 2016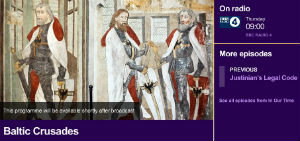 The violent story of how Christianity was brought to north-east Europe will be told as part of the BBC Radio 4 In Our Time series this week.
The programme will explore the Baltic Crusades - a series of bloody attempts to convert pagans to Christianity in the Middle Ages, and the slaughtering of those who refused.
University of Reading associate professor in Archaeology Aleks Pluskowski will explain what he learnt from a decade working in the eastern Baltic region to host Melvyn Bragg and other guests on Thursday 24 November.
From 2010-14, Dr Pluskowski ran the European Research Council-funded Ecology of Crusading project, which investigated the environmental impact of the Crusades across the eastern Baltic region.
The Crusades led to the State of the Teutonic Order being founded in Prussia in the 13th Century and had a lasting effect on eastern Europe.
Also offering expertise on the show are Martin Palmer, theologian and director of the International Consultancy on Religion, Education and Culture, and Nora Berend, Reader in European History at the University of Cambridge.
In Our Time: Baltic Crusades airs on Radio 4 at 9am on Thursday 24 November, and is repeated at 9.30pm.