University of Reading experts explore the future of food at Food Matters Live 2016
Release Date 22 November 2016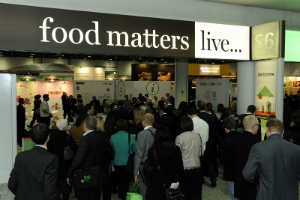 Food companies will be able to see the research capabilities of the University of Reading in agriculture, nutrition and health at the Food Matters Live exhibition this week.
The exhibition will give world-leading food scientists at Reading the opportunity to share their expertise with hundreds of companies and organisations at ExCel, London, from 22 to 24 November.
The event will highlight Reading's world-class food science facilities and research capability, while the University will also be asking businesses to share their future food challenges.
The engagement could help inform future research, as well as helping food businesses of all sizes gain access to cutting-edge research and development.
The University of Reading stand will showcase real-world examples of its interaction with food businesses, highlighting how its research is helping to make food:
Healthier – by applying the latest nutritional science to real food and diets
Safer – by reducing risks to consumers
More economical – by streamlining processes and increasing revenues
Better for the environment – by understanding the impacts of the whole food chain, from farm to fork and beyond.
Professor Richard Bennett, Research Dean for Food at the University of Reading, said: "Reading offers truly world-leading food science research. Our work is helping to produce sufficient healthy and nutritious food to feed a growing world population whilst safeguarding the environment.
"The best research often requires the close involvement of business. We have an excellent track record of working with the food industry, and can provide the knowhow, facilities and evidence to make food that's healthier, tastier and better for the environment."
Among other services, the University of Reading can offer access to:
Food science and nutrition consultancy
Flavour Centre and Sensory Science Centre
Food processing plant
Centre for Dairy Research
International Cocoa Quarantine Centre
Crop and Environment Laboratory
Hugh Sinclair Nutritional Unit
Thames Valley Clinical Trials Unit
Food companies can hear from some of the University of Reading's leading experts at several seminar sessions and in the Conference, and meet top food scientists at the Reading exhibition stand, located in the Research Pavilion at RP13.
Reading's food experts will also be on hand to meet at the University of Reading stand at various times throughout Food Matters Live. Attending are:
Professor Julian Cooper
Dr Vimal Karani
Dr Gunter Kuhnle
Dr Anna Macready
Professor Bob Rastall
Dr Orla Kennedy
Dr Rosalind Fallaize
For more information about food research and integrated technical expertise at the University of Reading, visit www.reading.ac.uk/food and http://www.reading.ac.uk/food-matters.
To find out how your business could work with our world-class experts, contact the University of Reading's Knowledge Transfer Centre on 0118 378 5380, visit www.reading.ac.uk/working-with-business or email frontdoor@reading.ac.uk.