Black Friday, protecting pollinators and Professor Green: Reading in the news – Fri 25 Nov
Release Date 25 November 2016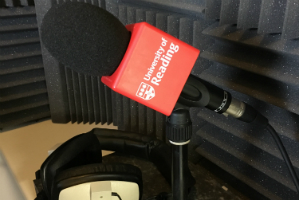 Here's Friday's summary of media coverage for the University of Reading.
Antarctic sea ice: A new study at Reading says sea ice around the Antarctic has barely changed in size in 100 years, suggesting it may be less sensitive to climate change. The news is covered at Mirror online, Carbon Brief, The Express, Yahoo and further titles. Read our news story.
Climate forecasts: ITV News discusses a new study at Reading on climate forecasting.
Pollinators: A study co-authored by Prof Simon Potts (Agri-Environment) proposes ten policies to protect vital pollinators such as bees. Story appears in Scienmag and Global Foodmate.
Processed meats: Dr Gunter Kuhnle (Food & Nutritional Sciences) appears on BBC's 'The truth about meat' to discuss the harmful contents of meats.
Black Friday: Dr Steve Musson (Geography & Environmental Science) discusses what Black Friday means for retailers on BBC Berkshire.
Accreditation: The University's Special Collections and Museum of English Rural Life have been awarded accredited status by The National Archives, reports Wired-Gov.
Ice cream: Katie Barfoot (Psychology & Clinical Language Sciences) discusses the alertness of those who have eaten ice cream for breakfast at Science World Report and other trade titles.
Bacterial evolution: A study on bacterial evolution co-authored by Dr Chris Venditti (Evolutionary Biology) is discussed at Science Daily.
Reading International: The Reading International art project is mentioned in a discussion on local art on BBC Berkshire.
Professor Green: BBC Radio 1 broadcasts a segment on university professors that share a name with music artist Professor Green. Reading's Prof Stuart Green (Built Environment) is mentioned.