Reading in the News - Monday 3 October
Release Date 03 October 2016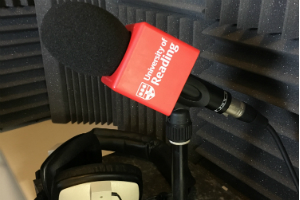 Here is the daily round-up of media coverage report for the University of Reading on Monday 3 October.
Iron Age mound: The significant discovery thanks to Reading's Dr Jim Leary's work that a mound at Skipsea Castle in Yorkshire is 1,500 years older than previously thought led to him appearing on the Today programme on BBC Radio 4 (54 mins 15 secs), among other stations, on Monday morning. The Guardian also ran a feature on Dr Leary's work, with BBC Online set to follow.
Cyclist study: BBC South Today ran a TV news item featuring Dr Emma Street and two participants in the cycleBOOM scheme to explain that many older cyclists are too scared to ride on UK roads, despite the clear health benefits.
Deutsche Bank fine: Associate Professor of Finance at Henley Business School, Dr Andreas Hoepner, appeared on BBC News to speak about the Deutsche Bank fine (1 mins 50 secs) for mis-selling mortgage securities.
Brexit: Prof Jonathan Golub spoke on Canadian CTV about Theresa May's announcement that Britain would trigger Article 50 in March 2017 to start Britain's withdrawal from the EU.
Black film event: The Black Film Festival, being run by University of Reading in conjunction with Unity Arts, was promoted on BBC Berkshire (55 mins 30 secs). John Sailsman from Unity Arts and Prof Nicola Abram from the university went to the Caversham studio to talk about the films and panel discussions on offer.
Evolutionary violence: Professor Mark spoke on BBC Radio Asia about lethal violence within our evolutionary past. The Malone Telegram in New York also ran a piece on this research.
Railway history: Dr Lucy Newton was on BBC One last Wednesday being interviewed for Railways: Making of a Nation - capitalism and commerce.
Edith Morley Building: GetReading ran a story on the renaming of the HumSS building as the Edith Morley Building.