Chance to quiz the cast as Black Film Festival returns
Release Date 04 October 2016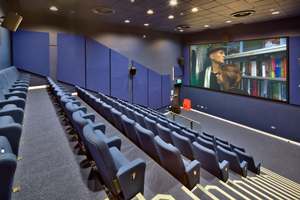 Movie fans will have the chance to quiz filmmakers and actors during a screening as part of an event showcasing contemporary black cinema at the University of Reading.
The Uhuru International Black Film Festival returns to the Minghella Cinema on Whiteknights Campus in October with five new films, plus guest speakers.
The festival is organised by Reading-based community group Unity Arts, Music and Multimedia in partnership with the university.
This is the second time the festival has been held, having first been organised in 2011, and the audience will this year have the chance to put their questions to those behind the film Hard Time Bus.
Among the organisers are Dr Nicola Abram, Lecturer in Literatures in English; Professor Ellie Highwood, Dean for Diversity & Inclusion; and John Sailsman, Director of Unity Arts, Music & Multimedia.
Dr Abram said: "Some of the most provocative, powerful, and fun contributions to contemporary culture are being made by black filmmakers.
"Since 2016 is Reading's Year of Culture, and October is the UK's Black History Month, this is the perfect time to bring local people together to encounter, enjoy, and debate their work.
"I'm proud that the University is partnering with Unity Arts, Music & Multimedia to make this happen."
Full programme:
Friday 7 October
6.30pm Drinks reception
7.30pm Screening Second Coming (2014), dir. debbie tucker green - entry free
Friday 21 October
7.30pm Screening The Hard Stop (2015), dir. George Amponsah - entry free
9.00pm Audience discussion
Monday 24 October
7.30pm Screening Looking for Love (2015), dir. Menelik Shabazz - entry £5
Thursday 27 October
7.30pm Screening Hard Time Bus (2016), dir. Dean Charles - entry £5
9.00pm Panel discussion with filmmakers and cast
Monday 31 October
4pm Panel discussion: Cinema in and out of Africa, sponsored by the Centre for Film Aesthetics and Cultures (UoR)
6.30pm Screening Sankofa (1993), dir. Haile Gerima - entry £5
8.45pm Lecture/performance by dub poet Mutabaruka
The event is aimed at exemplifying the work of the university's Heritage and Creativity Institute, and will bring together academics, students, artists and partners to celebrate and champion the arts.
The University of Reading has recently committed to developing a more diverse and inclusive staff, and to tackling the difference in attainment between students of different ethnicities.
Supporting this film festival is a first step towards raising visibility of diversity and inclusion work on campus, and reaches out to the local community.
Mr Sailsman said: "In these times it has become a greater necessity for Black people to express themselves socially, politically, and creatively. The Uhuru International Black Film Festival aims not only to celebrate the uniqueness and diversity of Black Film, but also to provide a platform for Black Film makers.
"We are grateful for the support of the University of Reading for this year's festival, and hope to continue this important collaboration for years to come."
To register to attend any of these events, please visit the University of Reading's events page.