Thames Valley Science Park receives Government funding guarantee
Release Date 12 October 2016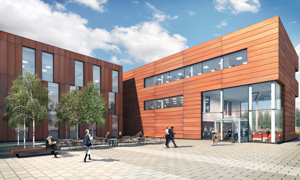 A local Science Park with potential to provide up to 5000 jobs has received a £5m funding guarantee from the Treasury.
The announcement by Chancellor Philip Hammond has guaranteed that the award of EU regional development funding will be underwritten by the treasury. Lord George Bridges from the Department for Exiting the European Union visited the University of Reading to discuss the Thames Valley Science Park and the opportunities to incubate UK innovation.
Lord Bridges, Parliamentary Under Secretary of State at the Department for Exiting the European Union said:
"This is an exciting chapter for the University of Reading that will set the stage for emerging science and technology talent of the future.
"Thames Valley Science Park has the ambition and the potential to position itself at the cutting edge of innovation across the region.
"My hope is that in the years to come the Science Park will enhance the opportunities available to young people, encourage growth in this sector and provide a boost to the local economy."
5000 new jobs
The completed Science Park will eventually deliver approximately 800,000 ft2 of space in a range of flexible buildings to create a new community of 80 innovation and technology led companies, with the potential to provide up to 5,000 new jobs.
The delivery of the first 70,000 ft2 'Gateway' building at Thames Valley Science Park is due to be completed in August 2017 and will provide specialist space for innovation led and technology based companies. The initial investment in the flagship project is £35million which includes investment more than £30 million from the University of Reading.
David Gillham, Director, Thames Valley Science Park said: "The assurance of £5m of funding for the Thames Valley Science Park is welcome news and will help the park to build on the already established thriving community of knowledge-based companies on campus. This funding will enable us to build research and technical facilities that are critical to growing companies such as life and health sciences and food which need specialist lab facilities.
"The EU funding has specifically supported the provision of critical research infrastructure and laboratories which will particularly help aspirational companies in the life and health sciences sectors establish and grow.
"With London and the South East representing one of the largest cluster globally of medical and health related research, the life and health sciences sector is seen as a major development opportunity for the region."
Peter Read, Chairman of Thames Valley Berkshire LEP, said: "This is a flagship development within our Strategic Economic Plan and we are proud to play a leading role in developing vital infrastructure at the Science Park through our ESIF Strategy.
"Job creation is a key priority for the LEP; the Science Park will bring in high-value jobs for the area and for graduates. All the partners involved in this project are committed to creating a world class Science Park."