Minister visits University to see inclusive design project
Release Date 20 October 2016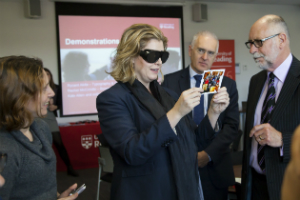 Inclusive design was the focus of Minister for Disabled People, Work and Health Penny Mordaunt's visit to the University of Reading today.
The University's Breaking Down Barriers project is stimulating a change in the way students at Reading are taught about the inclusive design of products and services. As part of the visit, the Minister was invited to try a number of simulation tools exploring everyday challenges people face in terms of mobility, dexterity and visibility.
Minister for Disabled People, Work and Health, Penny Mordaunt, said:
"Inclusivity and accessibility should be at the forefront of good design, and I'm delighted to see the University of Reading leading the way with their Breaking down Barriers scheme.
"I hope to see more businesses and universities building equality and creating more opportunities through design."
Christina Duckett, Visiting Fellow and Breaking Down Barriers project lead, said:
"Less than 8% of disabled people use wheelchairs and the majority of impairments are not visible. The aim of the project is to embed inclusive design into existing and new courses at the University, including the new undergraduate architecture programme which launched in September.
"Educating students in inclusive design is important in order to meet economic, legal and moral obligations. It is imperative that we understand how product and service design can be tailored to be inclusive to all. We aim to equip students with inclusivity in mind so that buildings, products and services of the future embrace inclusivity.
"The simulation tools are designed to create awareness and empathy of challenges faced by those with impairments when accessing buildings or products."
Examples of teaching and learning initiatives at Reading, which relate to positive impacts on the lives of disabled people and others, were also showcased in a number of presentations to the minister.
More information on the Breaking Down Barriers project can be found at https://blogs.reading.ac.uk/breaking-down-barriers/.