Heathrow third runway decision welcomed by University of Reading Vice Chancellor
Release Date 25 October 2016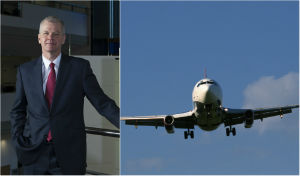 The University of Reading's Vice Chancellor Sir David Bell says the Government has made the right decision in choosing Heathrow for planned airport expansion in the South East.
The Government announced building a third runway at Heathrow as its preferred option following a cabinet committee meeting on Tuesday 25 October, deciding against Gatwick.
This is pending a consultation period, with the final vote by MPs expected to take place in the winter of 2017/18.
Vice Chancellor Sir David Bell wrote to the Airports Commission in February 2015 explaining why expanding Heathrow would benefit the university and the wider Thames Valley region.
Reacting to the Government's announcement, he said: "We are delighted that the Government has announced its preferred choice to expand Heathrow Airport. Heathrow has for a long time provided a gateway for the UK to be globally competitive, and the future capacity will enable the airport and the region to continue to grow.

"The Thames Valley is now the UK's most productive region and the expansion of Heathrow is an essential step in enabling further economic growth and innovation.

"Our proximity to Heathrow enables us to penetrate the fastest growing student markets in the world - China and the Far East. It means we can win new business and research investment from the world's fastest-growing economies.

"Equally, we particularly welcome the impact that today's decision will have to strengthen transport links across the Thames Valley region. It is our hope that new connections between Reading and Heathrow, alongside the Elizabeth Crossrail line and the Heathrow Spur link to High Speed 2 will be implemented in parallel to provide much needed access to the airport and further strengthen both the region's and the University's competitive position.

"We now look forward to seeing the detailed recommendations for Heathrow, and hope that all reasonable and practicable efforts to minimise noise and pollution are included in the deal."