University Of Reading 175th in World in QS World University rankings
Release Date 06 September 2016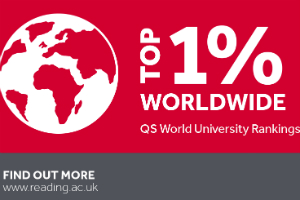 The University of Reading has retained its place in the top-200 institutions in the world, in the 2016 QS World University Rankings published today.
The University is ranked 175th overall out of over 4,300 considered by the compiler in the world – its second highest ever year-on-year ranking. It is ranked 28th out of 73 UK institutes ranked.
The international ranking consolidates last year's very steep rise of 46 places last year to 156th in the world. Over the last five years, Reading has risen 40 places
Highlights include being ranked 87th globally for the ratio of international to UK students – showing the attractiveness for overseas under- and postgraduates..
The University has also been ranked 15th in the UK the average number of citations per academic – showing real impact and quality of research. It has risen 20 places over the last two years.
The QS World University Rankings is a respected, independent benchmark of university quality published every autumn.
Sir David Bell, University of Reading Vice-Chancellor said:
"We are an outward-looking University, with an excellent international reputation and global ambitions.
"We are in the top-100 in the world for international students, showing the demands for places at Reading from across the world. League tables never tell the full story but these rankings confirm yet again, that we are at the top-table of major global universities.
"Our message has been unambiguous since the UK vote to leave the EU in June. Wherever our students and staff come from, they are equal partners, friends and colleagues. They play a vital role in the life of our university. And we are proud of their outstanding contribution - past, present and future.
"We operate five campuses, across three continents and a multinational community, with 17,000 students from 140 countries.
"We are planning for the long-term to build our global presence. We opened our state-of-the-art University of Reading Malaysia this year. I am going to China this month to officially launch our joint-academy with the NUIST and build our relationships with the Beijing Institute of Technology.
"We are launching an ambitious global engagement strategy to boost our profile and market ourselves to students. In addition, we are building new research and teaching partnerships. It means we can recruit outstanding academic staff, as well as working research partners in both higher education and industry, across the world."
The more detailed QS World University Rankings results include:
GLOBALLY
87th globally for international student ratio, up from 95th last year – showing how successful the University has been in attracting overseas students.
149th for international faculty ratio - showing how attracting overseas academics – broadly in line with 2015 ranking of 140th.
154th in the world for citations per faculty – up from 164th last year.
208th internationally for employer reputation and 260th for academic reputation - based on the QS Global Employer Survey and QS Global Academic Survey.
UK
15th for citations per faculty – up from 20th last year and a rise of 20 places since 2014.
38th for international student ratio – up from 42nd last year and 44th in 2014.
Maintained and consolidated rankings for academic reputation (28th), employer reputation (31st); international student proportion (35th); and on proportion of international academics (34th).
For more on the University of Reading's position in the QS World University rankings, visit www.topuniversities.com/universities/university-reading.