North Pole shipping could become year-long reality by end of century
Release Date 07 September 2016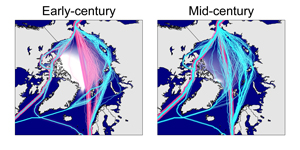 Reductions in sea ice in the Arctic could lead to quicker and more regular shipping directly across the North Pole, according to new research from the University of Reading.
Using the latest generation of climate model projections, climate scientists examined the likelihood of when shipping routes across the Arctic would become reliably open. During the 21st century the chance that non-specialised vessels could make the journey is expected to more than double, with more years than not being accessible along the 'northern sea route' across the top of Siberia by mid-century, potentially saving 10 days on a voyage from Europe to Asia. Moderately strengthened vessels would likely be able to make transits for 10-12 months by the end of the century.
Dr Nathanael Melia from the University of Reading said:
"The reduction in summer sea ice, perhaps the most striking sign of climate change, may also provide economic opportunities. There is renewed interest in trans-Arctic shipping because of potentially reduced costs and journey times between Asia and the Atlantic. So far only a few commercial vessels have utilised these routes as they are not currently reliably open.
"Importantly, the length of time available for journeys during summer also increases from around a few weeks to a few months, but with considerable variability from year-to-year. Ice-strengthened ships will regularly be able to sail a direct route across the North Pole for most of the year by the end of the century, assuming medium to high future greenhouse gas emissions."
Dr Ed Hawkins, co-author of study added:
"These findings also suggest a potential increase in destination shipping in the Arctic. However, there are a number of important economic and environmental factors which will determine whether the increased transit opportunities outweigh the risks involved."
Paper published in Geophysical Research Letters, "Sea ice decline and 21st century trans-Arctic shipping routes", doi: 10.1002/2016GL069315