Blue berets need better training to save lives, UN told
Release Date 12 September 2016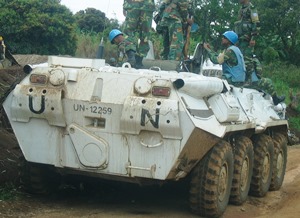 UN peacekeepers could save civilian lives by having better training and being more strategic in their use of force, a high-level roundtable discussion has concluded.
The recommendation was one of several made by the Challenges to People-Centred Peace Operations workshop, organised by the University of Reading, the United Nations Association UK, and Chatham House.
The invitation-only event was held at Chatham House on 7 September, the eve of the UK Peacekeeping Defence Ministerial in London. It was attended by 45 senior UN officials, government representatives, academics, NGOs, and practitioners.
The workshop made a number of recommendations, including:
Use of force: more planning on how and when force should be used to protect civilians
Mission capacity: improving the quality and diversity of leaders, making peacekeeping soldiers more accountable for their actions, and getting firmer commitments from UN member states to provide them
Training: improve training of military, police and civilian staff so they understand local and international laws
Local ownership: involve more community engagement in peacekeeping operations
Communications: encouraging dialogue between peacekeeping troops and local populations
The recommendations were circulated to participants, including those attending the Defence Ministerial the next day.
Read the summary of the recommendations made by the Peacekeeping Roundtable >
Professor Dominik Zaum, Research Dean for Prosperity and Resilience and Professor of Governance, Conflict and Security, University of Reading, said:
"United Nations peacekeepers do an invaluable job preventing violence, supporting efforts to find political resolutions to conflicts, and saving lives. But a number of high-profile failures by peacekeepers in recent years to protect civilians have undoubtedly undermined the credibility of the UN and its peacekeepers.
"The UN has already identified the value of taking a more 'people-centred' approach to peacekeeping operations. Our discussions have generated some key recommendations for the UN to improve the effectiveness peacekeeping operations, in particular with regard to protecting civilians in armed conflict."
The University of Reading has among the highest concentration of scholars studying the United Nations in the UK, and Dr Sarah von Billerbeck from the School of Politics, Economics, and International Relations, who also participated in the workshop, has just completed a book on local ownership and UN peace operations, and was awarded a prestigious ESRC Future Research Leaders Award for a project on self legitimation efforts of international organisations, including the UN.