Reading in the news - Weds 21 September
Release Date 21 September 2016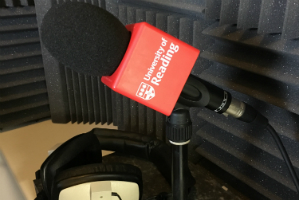 Here's Wednesday's summary of media coverage for the University of Reading.
Record intake: Vice-Chancellor Sir David Bell spoke to BBC Berkshire about a record intake of undergraduates at Reading (listen from 01:24:47). Read our news story.
Moving in: BBC Radio Asia presenter Tommy Sandhu mentions his visit to Reading to film for BBC's The One Show to find out how new students and their parents felt about them moving away from home for the first time (radio segment from 03:53:20).
Weather: Prof Giles Harrison (Meteorology) referenced in a story on AOL Travel asking 'can the government control the weather?'
Poetry: Dr Mary Morrissey (English Literature) was a speaker at an event at St Paul's Cathedral recognising the works of poet John Donne. The talk can be heard at Audio Boom.
Virtual reality: The Daily Mail references yesterday's story carrying comments from Prof Andrew Glennerster (Psychology) who said that virtual reality meetings could replace conference calls in the next few years.