Reading joins Jo Johnson China trip to cement College partnership
Release Date 23 September 2016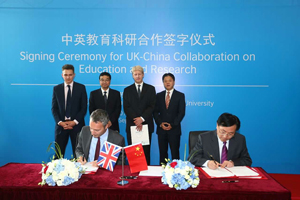 The University of Reading's partnership with the Nanjing University of Information Science and Technology (NUIST) was part of a series of initiatives endorsed by Universities minister Jo Johnson during his visit to China this week.
The Minister led a delegation of some 30 UK university leaders to China, including Reading's Pro Vice-Chancellor for Global Engagement, Vincenzo Raimo. They visited Jiangsu, the Province in which the NUIST-Reading Academy is located, and met provincial and national education officials and ministers. Johnson also oversaw new agreements to further development UK-Sino collaborations including the University of Reading's relationship with NUIST.
Vincenzo Raimo, Pro-Vice-Chancellor for Global Engagement, said:
"We're delighted to join this delegation and cement our partnership with NUIST to provide opportunities for Reading degrees in China.
"NUIST is part of our strategy to develop and grow our global reach. By the end of the decade, nearly a quarter of our total student population will be studying at Reading campuses outside the UK, in China, Malaysia, South Africa and elsewhere in the world."
"Our work with NUIST allows us to take our best courses to a part of the world where there is real demand for UK degrees. China is the fastest growing education system in the world. It is projected to produce more graduates than the US and EU put together by 2020. The UK already welcomes thousands of Chinese students and academics every year and our potential work together is limitless."
The University of Reading and NUIST launched a Sino-UK collaborative institute last year, the NUIST-Reading Academy, offering a range of joint degree programmes.
More than 200 new students joined the academy last week and the Academy is expected to grow to more than 1000 students over the next 4-years. Students at the Academy can currently study for 4 undergraduate degree programmes in Chemistry, Economics, Maths and Environmental Sciences and next year it is hoped that further pathways in Meteorology will be added.
More information about the NUIST-Reading Academy is available at:
https://www.reading.ac.uk/about/nuist.aspx