Karen Blackett OBE awarded honorary degree at Reading
Release Date 26 September 2016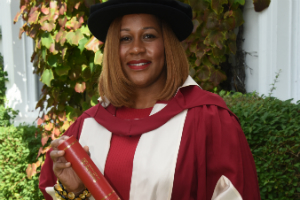 MediaCom Chairwoman Karen Blackett OBE was awarded an honorary degree by the University of Reading at a graduation ceremony held at the Henley Business School Greenlands campus on Friday (23 September).
Born in Reading, Karen Blackett OBE has worked in the media industry for 22 years and is currently Chairwoman of MediaCom, the largest media agency in the UK. Prior to this, Karen was CEO of MediaCom for five years.
Sir David Bell, Vice-Chancellor of the University of Reading said:
"We are delighted to be presenting Karen Blackett OBE with an honorary degree and inviting her to join the Reading family.
"Karen's exemplary career in the media industry and commitment to promoting diversity and equality will be inspirational to our staff, students and alumni."
Diversity and women in leadership has been at the heart of Henley programmes for many years and it is timely that Karen will be receiving her honorary degree less than a week before the 2016 Women in Leadership Scholarship winners are announced on 29 September. The Scholarship is a collaboration between Henley, the 30% Club and the Financial Times and is designed to pave the way to a greater visibility of women in leadership across all industry positions. As a prominent figure in diversity, Karen is an excellent role model for aspiring leadership talent.
In June 2014, Karen received an OBE in the Queen's Birthday honours for her services to the media communications industry.
Karen has won the Women in Marketing (WIM) Outstanding Contribution to Marketing Award, featured five times in the Power List of Britain's 100 Most Influential Black People, heading the list in 2015, the first business woman to do so. Karen has also appeared in the Woman's Hour Power List of Top 10 Influencers, and Marie Claire's Women at the Top Awards.
In March 2016, Karen joined Sir David Bell for an 'In Conversation' event at the University's annual Edith Morley lecture.