Major Henley Business School donor recognised
Release Date 26 September 2016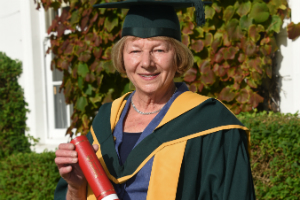 The wife of the late Henley Business School Head of International Business and Strategy, Alan Rugman, was awarded as the Donor of the Year at a special ceremony held at the Greenlands Campus.
In honour of Alan's dedication and work in the world of international business and at the Business School, Mrs Helen Rugman has helped set up the Alan Rugman Memorial Fund to support an International Business Masterclass Studentship and a Visiting Fellowship at Henley Business School.
The projects, developed with the support of Mrs Rugman's philanthropy, aim to encourage research and study in the areas of interest most associated with the late Professor Rugman, thus building on the reputation that Henley Business School has acquired in this field thanks to his major contribution to international business.
Professor John Board, Dean of Henley Business School, said:
"We are extremely pleased to be able to recognise Helen's continued support of the Business School. Alan had a leading role in the development of Henley Business School, for which he worked tirelessly. He was a valued colleague and friend to many, and Helen's donations will allow us to continue to excel in the areas Alan was such a prominent figure in. It is only right that we should say thank you to her in this way."
Professor Alan Rugman joined the University of Reading, which the Business School is now part of, in 2007 and was also a founding Fellow of the John H. Dunning Centre for International Business. He was an outstanding academic, a leading figure in the field of both international business and strategic management, and his research has shaped how academics and policymakers around the world view international business.
Mrs Helen Rugman, said:
"I am honoured to receive the award of Donor of the Year, in memory of my late husband. The priority for me is that Alan's scholarship and research continue to inspire, following his distinguished academic career spanning 45 years. By setting up the Alan Rugman Memorial Fund, Henley Business School is ensuring that his legacy lives on. I am delighted to offer my support to this project."