Brexit, and other stories from history - Reading in the news Mon 3 Apr
03 April 2017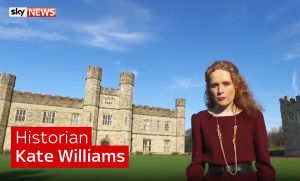 Here is today's round-up of media coverage featuring the University of Reading.
Brexit in historical context: Professor Kate Williams (History) explains how Brexit compares with other major moments in history in a light-hearted video piece for Sky News.
Digestive health research: Washing down supplements with water or milk is far better than with hot drinks, comments Professor Glenn Gibson (Food and Nutritional Sciences) in a Mail Online story on how some diets, and medication, prevent people losing weight. The Mail also reports that research at Reading has also shown that cooking foods in certain ways or with certain ingredients can better preserve their nutritional content.
Improving building design: Work by Professor Derek Clements-Croome (TSBE) is included in a Design Commission report (pages 36 and 48) on how authorities could step in to make better living spaces.
Property ownership gap: Professor Michael Ball, Professor of Urban and Property Economics at Henley Business School comments on house ownership figures among different generations in the Independent.
Bilingual lecture for parents: A free talk on raising bilingual children will be hosted by the university on Thursday, reports the Reading Chronicle.
Gene modification: Research by Professor Mark Pagel (Ecology and Evolutionary Biology) on how modifying genes could lead to 'designer people' is featured in a round-up of significant scientific news on Dutch website Scientias.nl.
Business partnership success: Ella's Kitchen, a company that sells organic baby food, is featured in a report on Gov.uk on successful businesses that benefited from Innovate UK funding, with reference to the fact it has taken part in three knowledge transfer partnerships (KTPs) with the University of Reading
Improving UK water quality: Experts from the University of Reading (GES) have contributed to a new online database with information on improving water quality in the UK, reports Public Now. Read our news story.
Ancient Rome MOOC: Reading's online course featuring a virtual model of ancient Rome (Classics) is featured in a list of the best online learning opportunities by Open Source Intelligence. Read our news story here.
Other coverage: