Reading ranked among best in the world for Meteorology research
03 April 2017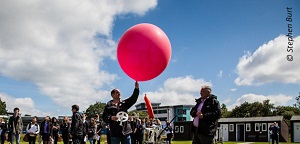 The University of Reading has been listed as second in the world for research in Meteorology & Atmospheric Sciences, according to a new league table.
The inaugural Center for World University Rankings by Subject 2017 highlights the world's top-performing universities in 227 subjects related to the sciences and the social sciences, based on the number of research articles in top-tier journals.
Overall, the University of Reading ranks 166th among global institutions with the most Top 10 placements, including in Meteorology and Atmospheric Sciences.
Professor Richard Allan, Head of Department of Meteorology, said:
"Over 50 years the Department of Meteorology at Reading has become globally renowned for research in Weather, Climate and Atmospheric Science. We are delighted that our current excellence has been recognised in these new subject rankings."
Dr Phil Newton, Research Dean for Environment, said:
"We judge our research not just by the quality of our published studies, or the high profile of our work, but by the difference it makes in the world.
"By bringing our meteorological science together with research in other areas, we are helping to improve livelihoods and save lives by warning of extreme weather, enabling businesses to avoid unexpected costs and deliver economic growth, and informing policymakers worldwide about the pace and nature of climate and environmental change. We are connecting research with the real world."
The Center for World University Rankings, publisher of the largest academic ranking of global universities, ranked Reading as 269th out of more than 26,000 global higher education institutions in 2016, and 25th in the UK.