Pleasure boats, out of body experiences and the little ice age: Reading in the news - 5th April
05 April 2017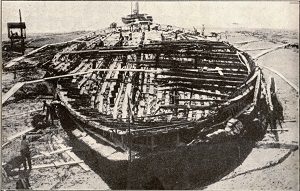 Caligula's pleasure boat: Dr Matthew Nichols (Classics) spoke to BBC World Service about efforts to find the remains of a boat believed to be owned by Roman Emperor Caligula. Also reported in Australian broadcaster ABC.
Little Ice Age: The Times reports on a paper on the 'Little Ice Age' which suggests that the temperature shift during the period between the 16th and 19th century may not have been as extreme as thought, and that similar solar conditions expected in the coming years would not offset global warming. Prof Mike Lockwood (Met) who led the research is quoted, and the research is also reported in Phys.org, Health Medicine Network. Our news story is available here.
Animal welfare: Prof Richard Bennett (Agriculture) spoke in a Lord's Select Committee for EU Energy and Environment looking at potential issues with animal welfare once the UK leaves the European Union. The session is available here (Prof Bennett's opening remarks at 10.15).
Health & Life Sciences building: Reading Chronicle carry news that Reading and Wokingham Borough Council have given planning permission for the proposed UoR Health & Life Sciences building. Read our news story here.
Out of body experiences: Comments by Dr Andreas Kalckert (Psychology UoRM) are included in a True Viral News report on new research about children's sense of self, and the idea that children as young as six can have a 'virtual out-of-body experience'.