Venus Awards 2017: University announces its final three
10 April 2017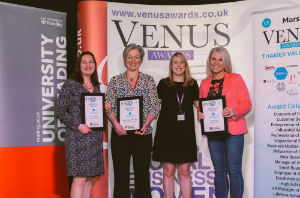 The University of Reading has announced its three finalists in a regional women's awards initiative, following a thorough interview process.
The NatWest Thames Valley Venus Awards 2017 seek to recognise the contribution of women in business to the local, regional and national economy. There are 15 categories, including Inspirational Woman, sponsored by the University of Reading.
A shortlist of three inspirational women in this category was announced at a semi-finals event at Grosvenor Casino in Reading on Thursday 6 April. They are:
Angela Cox – Founder of A 'Big Girl's Journey to Lean' group on Facebook, which she started to help others to lose weight after losing eight stone herself. The group now has 17,500 members.
Lucy Coulbert – Director of the Individual Funeral Company, which she set up in Oxford. She provides a service for families who are struggling to pay for funerals.
Heidi Strickland-Clark – Co-founder of FastTrack Fit Camp in Wokingham. The outdoor bootcamp was set up to help people focus on their health and wellbeing.
<!--[if !supportLists]-->

To select the trio, all five women shortlisted for the semi-finals were all invited to the University of Reading to be interviewed by a panel. They were asked about their career achievements and how they have sought to inspire others through their actions.

Louise Lewis, trustee of Restore charity in Oxford, and Vickie Randall, who started Connect Charity in Reading, were also interviewed but finished as runners up.

Fiona Blair, head of Marketing, Communications and Engagement at the University of Reading, said: "The process of taking our 55 initial nominees down to five was tough enough, but whittling that list down to just three has been a very difficult exercise.

"Our shortlist included a fantastic group of women whose experience and achievements cover a broad range of professional and charitable activities. Without exception, meeting and speaking in depth with each of our shortlisted candidates was a most enjoyable and genuinely inspiring experience for us."

In addition, Reading graduate Dorothy Dix, who is co-founder and CEO of local charity Creating Better Futures, was also named a finalist in the Manager of the Year. Read more about her story on the University of Reading Alumni blog here.

The winners in all 11 categories will be announced at an awards ceremony held at Reading's Madejski Stadium on Friday June 9.

Promoting Equality

Reading has a history of promoting equality, and was the first British university to appoint a female professor in Edith Morley in 1908. The Humanities and Social Sciences building on its Whiteknights campus will be officially renamed in her honour later in the spring.

The University was recognised for its work increasing career development opportunities for female scientists and promoting diversity in key positions by the Athena SWAN initiative in October.

The Venus Awards – dubbed by Channel 4 as 'The Working Women's Oscars' – were launched in Thames Valley in November 2016 with a ceremony at the University of Reading.