Urban foxes increase, and can skin cream really make you look younger? - Reading in the news Tue 18 Apr
18 April 2017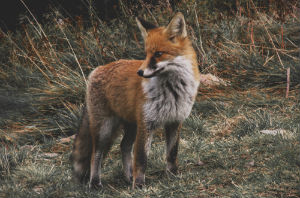 Urban foxes: An ongoing study involving Reading researchers (Ecology and Biological Sciences) on an apparent rise in the number of urban foxes was reported widely over Easter, including by BBC Radio 4 (1 hr 46 mins 34 secs), ITV.com, Mail on Sunday and Yahoo.
House price research: A new study by University of Reading economists suggests the provision of new homes will not make them more affordable for buyers. The Telegraph and Yahoo News reports.
Food research project: PIGSustain, a project involving Reading scientists (Biological Sciences) predicting the impacts of intensification and changes to the UK pig industry, is one of five to receive a share of £9m Global Food Security programme funding. The project has been awarded £2.1m. All Daily News reports.
Snakebite research: A study by Dr Sakthivel Vaiyapuri at Reading's Institute for Cardiovascular and Metabolic Research (Biological Sciences) showing the impact of snakebites on rural communities in India is featured in a Scroll.in article on the issue of children being bitten in the country.
University food trends: Matt White, Chair of The University Caterers Organisation (TUCO) and Director of Catering, Hotel and Conference Services at The University of Reading, discusses the challenge of delivering exciting food for students at the university in the face of competition from the high street in an article on University Business.
Efficient building heating: Professor Derek Clements-Croome (TSBE) explains that it is often more difficult to regulate temperature in modern buildings, but there are solutions, in an feature in the Telegraph.
Easter weather: The Express quoted Dr Nick Klingaman (Meteorology) in an article on the weather forecast ahead on the Easter weekend. Dr Klingaman said a warming eastern Pacific meant another El Nino was a possibility later in the year.
Cosmetics research: Studies by researchers at the University of Reading (Biological Sciences), which showed why a substance used in many skin creams can reduce the effects of ageing, are referenced in an article by Daily Record on a new Boots cream that claims to make users look 10 years younger.
Other coverage
Research by Dr Paul Williams (Meteorology) into how climate change will cause more severe turbulence continues to be covered globally. Cosmopolitan, Fox25 News, Colorado Public Radio, Industries News, 760KFMB radio station in California, Star Tribune in the US and Clean Malaysia. Read our news story here.
Reading is a partner in technology regulation and compliance research, which has received £617,000 as part of £3.6m in funding from UK-based agency Engineering and Physical Sciences Research Council. EconoTimes reports.
A paper prepared by Dr Daniel Gozman from the University of Reading (Information Systems) on the potential use of big data analytics by financial organisations to meet changing regulatory and compliance requirements.
A research collaboration between Reading and ThinkBlue – a new wild blueberry extract which is said to boost memory and prevent age-related cognitive decline – is reported by Food Beverage Asia. Read our story on the research here.
A Six Degrees News blog post looks at how science research is publicised refers to Reading's Open in Practice event – a free conference on Open Research for academics in science and humanities, held in March. Read about the event on the Opening Research at Reading Blog.
The increased memory offered by drinking orange juice regularly, according to a Reading study (Food and Nutritional Sciences), is reported by News Journal Online in the US.
Neuroscience research shows that injecting new dopamine neurons into the brain to replace damaged ones could treat Parkinson's disease. The study is reported by Iran Daily.
The University of Reading Malaysia has teamed up with EcoWorld Development Group to provide student accommodation for undergraduates, reports Malaysian Reserve.