Why 'shrewd' Theresa May made surprise election announcement - Reading in the news Wed 19 Apr
19 April 2017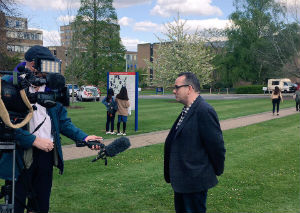 Here is today's round-up of media coverage featuring the University of Reading.
Snap election: Dr Mark Shanahan (Politics and International Relations) gave his thoughts on Theresa May's surprise announcement that she would seek a General Election in June to ITV Meridian. He was also interviewed on Heart Radio and BBC Radio Berkshire (1 hr 11 mins) before Mrs May had even finished her statement, and his comments were played during the hourly news bulletins on the station. Former Reading Politics lecturer Dr Alan Renwick was also interviewed on BBC Berkshire (19 mins 40 secs) the following morning.
Lost Roman pleasure boat: Dr Matthew Nicholls (Classics) was interviewed about the search for another of Roman Emperor Caligula's pleasure boats in Lake Nemi in Italy. He was interviewed by BBC World Service and Sciences et Avenir in France and also spoke to Australia's ABC Radio Nightlife programme on this subject, while also discussing the Ancient Rome virtual reality MOOC currently being undertaken by around 11,000 members of the public. Read more about that here.
Robotics on Russian TV: Russian Federal REN-TV channel features Professor Kevin Warwick (Cybernetics) on a show about how technology implants can give humans extra abilities.
Green targets: The University's mission to reduce its carbon emissions, and its aims to go further, was the subject of a feature in The Environmentalist magazine. Read our news story here.
Legality of military strikes: A blog on Indian Strategic Studies exploring the legality of UK military action outside of warzones and prior to Parliamentary approval, as was the case in August 2015 in Syria, used comments from Professor James Green (Law).
Improving staff retention: A White Paper being prepared by the University of Reading with Experience Insight aims to show how car dealerships can better retain staff by helping staff relax and retain a positive work-life balance, reports AM Online.
Other coverage