New tennis courts, and are urban explorers breaking the law? - Reading in the news Thu 20 Apr
20 April 2017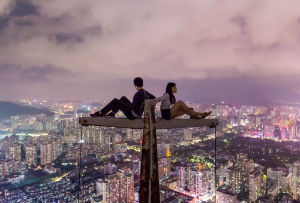 Haiti cholera outbreak: The UN's role in the cholera outbreak in Haiti in 2004, and its subsequent handling of the aftermath, is discussed in a blog by Professor Rosa Freedman (School of Law) on The Conversation.
Branding and recruitment: The University's Pro-Vice-Chancellor for Global Engagement, Vincenzo Raimo, is quoted in a piece on the importance of university branding to international recruitment on University World News.
New tennis courts: The University's announcement that it will build new £850,000 weatherproof tennis courts at the sports park was covered on Heart Radio Berkshire on the radio news bulletins and online. The new courts will make the University tennis complex the biggest in Reading. Read our news story.
Trespassing law: A Devon Live article on a group of men who filmed themselves climbing onto the roof of Plymouth's tallest building, which is still under development, uses comments from Dr Mark Wilde (School of Law) given previously to the BBC on whether doing so is legal.
Deindustrialisation in Sydney: An account from Professor Alan Evans (Henley Business School) on rising land prices in Sydney is used in a New Geography article.
Sweetener research: A Chicago symposium of researchers studying zero-calorie sweetener stevia is previewed by Canadian Insider, including a talk by Ian Rowland PhD (Food and Nutritional Sciences) from the University of Reading.
Other coverage