Local lawyer gives divorce masterclass to University of Reading students
21 April 2017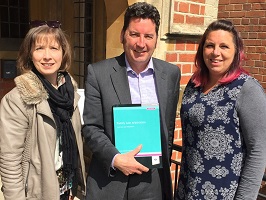 Law students have received a masterclass from Reading-based family lawyer Tony Roe as part of an ongoing link between the University of Reading and local law firms.
Roe, who is Principal of a firm of solicitors in his name and a Visiting Fellow in Family Law, provided practical insights into elements of financial provision to Family Law students studying for finals. As a family arbitrator, Roe also presented the School of Law with the new edition of Family Law Arbitration by D.Sheridan and S.Kingston, The Law Society 2017.
Mr Tony Roe said:
"I am very honoured to be a visiting fellow. I actively engage with the University, the School of Law and its students whenever I can. One of the key times of the year for me is to visit students, only days away from final exams, and set them a practical family law problem, aimed at building on their existing knowledge. The University of Reading final year law students have to work through a detailed case study and come up with their suggested order for a fictional divorcing couple.
"It is a great privilege to be invited by the School of Law to talk to the students. Local businesses get a lot out of working with the University and I would encourage more to do so. I continue to be impressed by the commitment of the staff and the performance of the students.
I very much enjoy working with the School of Law and look forward to continuing to do so."
Dr Thérèse Callus from the School of Law said:
"As Visiting Fellow in Family Law, Tony's contribution to our final year family law module provides an added extra to our students' experience. The session this week combined practical insight into the law in action with useful revision practise for our finalists. Financial provision on divorce is a very topical and difficult issue. We are very lucky to have the support of Tony Roe Solicitors who also sponsor our Family Law Prize for the best performance in the examination. This generous support is an excellent opportunity, offering both a financial prize and valuable work experience, so crucial to our graduates once they leave us."
The School of Law is part of the world-ranked University of Reading, rated among the UK's most research intensive institutions and one of the UK's largest, best-known and most successful campus universities.
With attractive views of Whiteknights Lake and surrounded by parkland, the School of Law is situated in an architecturally significant grade 2 listed building on the University's main campus. Among the most satisfied law students in the UK, our students benefit from a dynamic and international learning environment, high quality teaching and courses supported by the latest research, state-of-the-art facilities, opportunites to gain practical real-world experience and our links with graduate employers.
Our leading undergraduate degree and postgraduate masters courses are designed to prepare students to work in the legal profession but with law graduates in high demand they also provide a route into many other areas. We also offer a wide range of leading postgraduate research opportunities.
Pictured (left to right): Dr Thérèse Callus, Mr Tony Roe, Dr Annika Newnham