Rocket salad, the Queen's butter, and scones? Reading in the News - 24 April
24 April 2017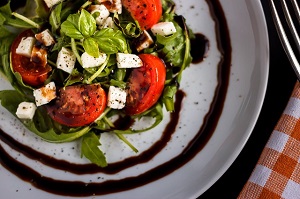 Scone or scone?: Prof Jane Setter (English) quoted extensively in an Observer article on pronunciation and whether scone rhymes with gone or cone to coincide with English Language Day. Also in Daily Mail and The Scotsman, and discussed on BBC Radio Humberside (35 mins in) and BBC Radio Leicester (1hr 43 mins in).
Rocket salad anti-cancer properties: Research from Dr Luke Bell (Food) found that anti-cancer nutrients in rocket leaves were found to increase threefold seven days after harvest, in the Sunday Telegraph, Yahoo News, Irish Independent, Phys.org, and Fruit Net. The story was also discussed on BBC Radio Notts (1hr 37 mins in) and TalkRadio. Read our news story here.
Climate charts: Mail Online reports on a series of graphs charting the increase in global temperatures in 160 years. Dr Ed Hawkins (Met) is quoted and several of his charts are included.
'Super' fruit and bigger brains: Dr Chris Venditti (SBS) is quoted in an article suggesting that the 'superfood' which will lead to larger brains is fruit, in Egypt Independent.
Bill Law: The Guardian carry an obituary of Bill Law, who tutored on UoR's counselling training course in the 60s. Law went on to become a founding fellow of the National Institute for Careers Education and Counselling (NICEC).
Queen's butter maker: BBC 2's Antiques Roadshow included a valuation of mementoes from the Queen Victoria's champion butter maker from Balmoral, who may have been one of the first women to study for a degree in Agriculture and studied at UoR.
Other coverage:
Dr Steve Musson (GES) spoke to BBC Berkshire about retail sales decline and a number of large high street shops announcing closures.
Britain in Europe reported on comments by Dr Ruvi Ziegler (Law) made to the new European Parliament President about the rights of EU citizens.
BBC Derby's Devon Daley spoke to Dr Alison Donnell (Literature and Languages) about a PhD in Caribbean literature (1hr 55m in).
Prof Giles Harrison's (Met) grant award for rain enhancement in the desert is covered in DotEmirate.
RSSL have relocated their biomolecular analysis group to an expanded location on the UoR Whiteknights Campus, in EPM Magazine.
A UoR Food study of beetroot preventing hypertension is mentioned in an article in Live Trading News.
<!--[if !supportLists]-->