Outgoing MP Douglas Carswell talks UKIP bust-up, equal marriage vote and burka ban
27 April 2017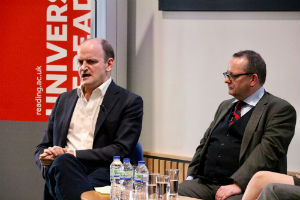 Outgoing Clacton MP Douglas Carswell revealed his views on UKIP since quitting the party and his regrets over voting against equal marriage during a visit to the University of Reading
The former UKIP and now Independent MP, who announced this month he would not re-stand in the upcoming General Election, was in Reading on Tuesday 25 April for the latest of the University's Political Voices lectures.
In the Rebel on the Road lecture, to students, staff and members of the public, he also excplained why he believes the burka ban proposed by his former party would be bad news for the UK.
We have pulled out a few highlights from his revealing lecture below. The full video of Mr Carswell's talk is available here.
Please contact the press office on 0118 378 5757 or pressoffice@reading.ac.uk for more information, or to request to interview Dr Mark Shanahan, Politics and International Relations lecturer, who organised the talk.
Quotes from Douglas Carswell MP at a political voices event at the University of Reading on 25th April 2017
On equal marriage:
There have been a few times where I've voted the wrong way, and I clearly voted the wrong way on the issue of equal marriage. I had to jump one way or another on it, I jumped against the legislation and I think that was the wrong choice."
On UKIP:
"I've ignored some of those people (Farage and Arron Banks) and I've found it easy to ignore one or two of those people – and I expect that Clacton was poised to ignore those people too, and it could be why they're not running.
"One reason why many people in UKIP are no longer running is because they've finally learned at the end of their political career what you should learn at the start…. is how to count. The maths on the wall are pretty bleak for UKIP."
On Paul Nuttall refusing to comment on whether he's standing:
"There's a lot to be said for locking yourself in a room – perhaps it should be a darkened room in the case of one or two people in politics."
On the proposed ban on veils by UKIP:
"You should never in this country require people to dress or not dress in a certain way.
"If you want people to integrate, you've got to make them want to do it and the idea of doing it by top-down fear, like in France – it's been a disaster in France – is not the way forward."