Reading undergrad wins a national student award
28 April 2017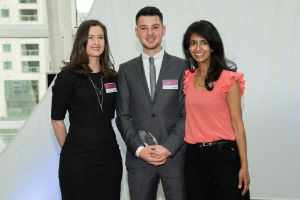 A University of Reading undergraduate has won a prestigious national student award.
Second year BSC Mathematics student, Connor Vidal-Cocker, has been named The Mathematics, Economics and Finance Undergraduate of the Year at this year's TARGETjobs Undergraduate of the Year awards.
21 year old Connor fought off stiff competition to win the award, which was sponsored by Gazprom. Nearly 3,500 students from universities across the country submitted applications to win one of the 12 awards up for grabs. They had to go through a rigorous assessment process consisting of an initial application and questionnaire; an online assessment with situational, numerical and inductive reasoning tests; and finally, an in-person assessment with the respective award sponsor. The winners were announced at an awards ceremony in Canary Wharf, hosted by writer and television presenter Konnie Huq, last Friday (21 April).
As a prize for winning the award, Connor will do a 10 week work placement in Gazprom's marketing and trading team this summer, spending one week at the company's Singapore branch.
Connor said: "I am honoured to have received this award. The experience I have gained throughout the whole process has been amazing.
"I look forward to starting my work placement with Gazprom Marketing & Trading over the summer and, in particular, visiting their branch in Singapore. I am excited to be able to apply the skills I have learnt in my time at the University of Reading.
"I applied to the award because I wanted my CV to stand out. Hopefully winning will enable me to really kick start my career. I would like to say a special thank you to Claire Newbold in the Mathematics Department, as she has been incredibly supportive of me throughout the process."
Dr Stephen Langdon, Head of the Mathematics Department at the University of Reading, said: "We'd like to offer our warmest congratulations to Connor for this impressive achievement. We are extremely enthusiastic about supporting our students in securing placement opportunities, so it's particularly pleasing to see that this award will offer Connor the chance to undertake what I'm sure will be a very interesting placement this summer."