Raw milk, Le Pen, and how pubs could save 10k: Reading in the News- 28 April
28 April 2017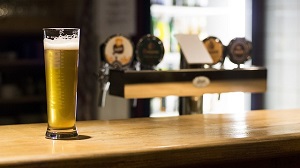 Raw milk: BBC Radio 4 You and Yours spoke to Prof Ian Givens (Agriculture) about raw milk, as more farmers are selling milk direct from the farm without pasteurising.
French elections: Dr Daphne Halikiopoulou (P&IR) spoke to France 24 on likelihood of Le Pen making it through to the final round and her chances of winning power, and in a follow up interview on whether the National Front party could now be considered 'normal' after Le Pen made it through to the final round of voting.
Climate change and gardening: A Royal Horticultural Society (RHS) report, supported by scientists at the University of Reading (Agriculture/Meteorology), on the impacts of climate change on gardens and the wider landscape is reported in Phys.org, and discussed on BBC Northampton. Read our news story here.
Pub food prep: A study by UoR and Brunel has found that pubs could potentially save £10k a year by using different food preparation equipment, in the Morning Advertiser.
Bumpier flights: Research by Dr Paul Williams (Meteorology) into how climate change will cause more severe turbulence continues to be covered globally is covered in the Weather Network.