Air pollution, law collaboration, and reinventing weather apps: Reading in the News - 3 August
03 August 2017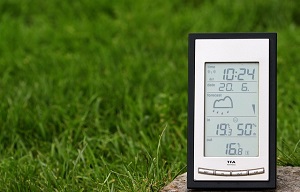 Microchip implants: BBC South mention the work of Visiting Professor Kevin Warwick in a report about a Hampshire-based company looking at making RFID chips that can be implanted in your hand available to the public.
Climate-change impact: A study co-authored by Prof Bill Collins (Met) warns that climate change may contribute to up to 60,000 extra deaths each year is reported on CNBC and News Dog. BBC Berkshire (1hr 8 mins in) also spoke to Prof Collins, whose study looked at the likely impact of rising global warming on air pollution. Read our news story here.
In addition, The West Australian's AirlineRatings notes research on climate change-induced turbulence by Dr Paul Williams (Met) in an article about laser technology that may help pilots avoid turbulence.
Weather forecasts: Dr Andrew Charlton-Perez (Met) spoke to BBC Berkshire (2hr 35 in) about a new project calling for members of the public to help reinvent weather apps. Read our news story here.
Law collaboration: NBC have reproduced a PR Newswire article about the University of Law having been shortlisted for a EducatorInvestor prize. The article notes that ULaw are collaborating with the University of Reading and you could read about the work here.
Chinese Alumni: Global Times has run an article about the British Chamber of Commerce in Shanghai holding an event for alumni from alumni associations including UoR and HBS.
Modern Art: BBC Oxford highlight a live stream of work by artist Laura Nicholson from UoR as part of a discussion about nurturing artistic talent. Further details about the performance can be found here.