University of Reading scheme highlighted as widening participation best practise
04 August 2017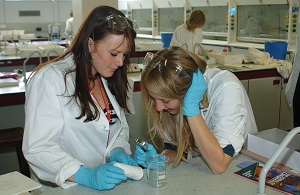 The University of Reading has been praised by Universities Minister, Jo Johnson, for implementing a widening participation scheme that aims to encourage young people from under-represented groups and disadvantaged backgrounds to go to university.
The Reading Scholars Scheme, which was introduced in 2012 and is now in its fifth year, is designed to give school students the opportunity to find out more about what university life is like and an insight into studying at degree level.
Students participating in the year-long Scheme take part in a range of academic masterclasses related to their chosen subject area as well as attending a 'student experience day', a study skills and higher education information day and a summer school. In addition to on-campus activities, students also take part in an e-mentoring programme where they are paired with a University student mentor from their chosen subject area.
The Scheme has been aimed at students in Year 12/first year of college, with participating numbers rising to 195 (from 46 schools) in 2016/17, from 35 when the programme first started in 2012/13.
The programme currently includes the following subjects: Biology, Chemistry, Art & Design, English Literature, Languages (French/German/Spanish) and Mathematics. There are plans to expand to further subject areas in the future.
In 2016/17, the Scheme was extended to cover Year 10 students (running into Year 11) also, to support students earlier in their decision making process about higher education options and choices. This first year, which covers all subjects, saw 32 Year 10 students from six schools taking part.
The Scheme has proved to be successful. Of the 2015/16 cohort – 97% said they intended to apply to higher education; 30% have applied to study at Reading.
Students who complete the programme are guaranteed a conditional offer in line with entry requirements. Reading Scholars students can also apply for a Scholars Bursary worth £1,000 if Reading is their firm UCAS choice.
The praise comes as the Department for Education releases its latest statistics on widening participation in UK universities. The Universities Minister highlighted the Reading Scholars Scheme as an example of widening participation best practise: "The University uses a tracking database to evaluate enrolment, retention and success for participating students, whether they enrol at the University of Reading or another HEI – demonstrating their contribution to widening participation in the sector as a whole."
Professor Gavin Brooks, Pro-Vice-Chancellor for Teaching & Learning at the University of Reading, said: "I am delighted that the Reading Scholars Scheme has been recognised by the Universities Minister as an example of widening participation best practise."
"We are very proud of the Scholars Scheme and the results we have seen to date. We were one of the first UK universities to introduce such a scheme and it has been a pleasure to watch it grow over the last five years. We have ambitious plans to expand the Scheme further and, as a result, hope to encourage even more young people into higher education."
Access Agreement approved
In addition, this week the University's £7.8m a year commitment to recruit and support disadvantaged students has been approved by the Office for Fair Access (OFFA).
The 2018/19 Access Agreement package details the University's programme to widen participation and improve access in higher education, including:
the continuation and expansion of the Reading Scholars Scheme

financial support, bursaries and tuition fee waivers, including the Reading Bursary Scheme which awards £1000 a year to each eligible student from households with an annual income of less than £25,000.

targeted support during students' degree courses to prepare them for future study or work, including one to one academic support; work placements; internships; peer and career mentoring.
Analysis undertaken for the 2015/6 Monitoring Return showed the University is making good progress against the agreed targets related to the recruitment of first year UK full-time undergraduates:
87.4% of new entrants from state schools - up from 85.7% in 2014/15 and 86.1% in 2013/14

7.1% of new entrants from low participation neighbourhoods – up from 6.9% in 2014/15 and 6.5% in 2013/14.

17.6% from Black and Minority Ethnic (BAME) backgrounds – down from 19.4% in 2014/15 but up from the baseline year of 2011/12 when it was 14.5%

23% from households with income less than £25,000 – down from 26.1% in 2014/15 but up from 22.1% in 2010/11.
Professor Brooks said: "Widening participation forms an important part of the educational offering at Reading, which is why we have programmes such as the Reading Scholars Scheme, why we have bursaries for those that need them and why we continue to support students throughout their degree."
"The results from 2015/16 demonstrate that we have seen good progress against our targets but there is clearly more to be done and we will not shy away from that."
The University will spend approximately 27% of all projected higher fee income to fund the Access Agreement programme.