Aviation heroine 'humbled' as University building renamed in her honour
17 August 2017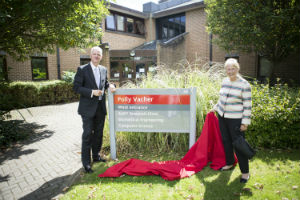 An aviation enthusiast, whose pioneering solo flights in support of a disability charity earned her an MBE from the Queen, has had a University of Reading building renamed in her honour.
Polly Vacher, a former master's student in Music Education at Reading, has made several long-distance flights in single-engine aircraft in aid of Flying Scholarships for Disabled People – a charity that allows people with disabilities to pilot aeroplanes themselves.
She entered the history books in 2001 after completing a solo eastbound circumnavigation of the world in her Piper PA-28 Cherokee Dakota. In 2004, she became the first woman to fly solo over the North Polar regions, flying over the North Pole, Antarctica and all seven continents. She was awarded an MBE for services to charity in 2002.
Mrs Vacher unveiled the new sign outside the former Systems Engineering Building on Tuesday 15 August, accompanied by family members and Sir David Bell, Vice-Chancellor of the University of Reading.
She said: "It's a proud honour to have a building named after me, but very humbling. I'd like to think that everyone who walks through the door of the building will be inspired to believe that if you keep at it you can achieve your dreams."
"We are proud that such an inspirational woman, who has allowed so many people to break through personal barriers and realise their potential through her charity work, is associated with us." - Sir David Bell, Vice-Chancellor of the University of Reading
The Polly Vacher building houses the Department of Computer Science, the Department of Biomedical Engineering and the Knowledge Transfer Centre. It also houses the Anxiety and Depression in Young People Research Unit (AnDY), which carries out research to help young people understand and overcome anxiety disorders that can get in the way of day to day life.
As well as her charity work, Mrs Vacher also supported the Institute of Education at the University of Reading in establishing its Universal Voices community children's choir for children aged 7-12. Working with the Campaigns and Supporter Engagement Office, Mrs Vacher supports the choir to give children the opportunity to experience the joy of music regardless of their financial circumstances.
Sir David said: "We think it's highly appropriate that this building, and what it represents, should be renamed after Polly Vacher. We are proud that such an inspirational woman, who has allowed so many people to break through personal barriers and realise their potential through her charity work, is associated with us."
Photo caption: Polly Vacher and Sir David Bell, Vice-Chancellor of the University of Reading, unveil the new sign outside the newly-renamed Polly Vacher building