Value for money and choice for students - Reading in the news Fri 18 Aug
18 August 2017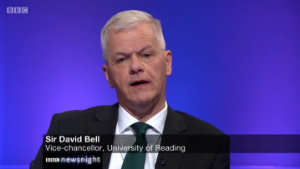 Here is today's round-up of media coverage featuring the University of Reading.
Clearing: Vice-Chancellor Sir David Bell was a guest on Newsnight on BBC Two on Thursday evening, where he was interviewed alongside Conservative Peer and former Universities Minister Lord David Willetts and Vice-President of the NUS Amatey Doku. He was asked for his reaction to current perceptions of higher education, university funding and increased scrutiny of vice-chancellor salaries. Information on Sir David's salary is publicly available on the University of Reading's website. An online story about the Newsnight interview and the debate over value for money in the Higher Education sector appears on Week Watch.
The sun and climate change: Professor Mike Lockwood FRS (Meteorology) is quoted by Carbon Brief in a piece exploring whether shifts in solar activity are contributing to climate change. Read more about Professor Lockwood and colleagues' research into the connection, or lack of, between solar activity and global temperature in our news story.
Eclipse and weather: Research at the University of Reading (Meteorology) on how weather changes during solar eclipses is featured on Weather.com, Vox.com and Bustle.com. Read our news story on the citizen science project that assisted the research.
UAE visit: A visit to Reading by the Rain Enhancement Program research team in the United Arab Emirates, to get an update from scientists leading a project (Meteorology) to use electric charge to induce rain in clouds, features on dotemirates.com. Read our news story here.
Other coverage
Several other regional news websites around the UK, including Portsmouth News, cover the story that a new national Hedgehog Housing Consensus has launched, with the data submitted by the public to be analysed at the University of Reading.
A community group's bid to buy Central Club in Reading, owned by Reading Council, has failed. Dr Steve Musson (Geography) gave his thoughts to BBC Radio Berkshire on why the council might prefer to sell the building on the open market.