Solar eruptions, ethical business, and Trump's Afghanistan speech: Reading in the news - 23 August
23 August 2017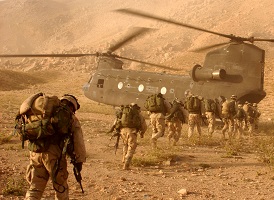 Solar eruptions: An article in the Daily Mail looking at a new radar station based in the Arctic to measure solar eruptions mentions research conducted by Prof Mathew Owens (Met) into Coronal Mass Ejections (CMEs).
Extreme weather and harvests: Prof Donal O'Sullivan (Agriculture) spoke to BBC South Today about the impact of extreme weather conditions on arable farming and harvests.
Trump and Afghanistan: Dr Mark Shanahan (Politics) spoke to BBC Radio Berkshire (1 hour and 5 mins in) about the US President Donald Trump announcing new plans for military involvement in Afghanistan.
Online shopping: Payment Week have run a release featuring behavioural psychology research conducted for private company KLARNA UK by the School of Psychology and Clinical Language Sciences. Dr Julia Vogt is quoted on the research.
Ethics in business: A business panel for BBC Three Counties radio (begins 3 hr 4 mins in) discusses the role of ethics in branding, and whether companies such as the Cooperative Bank should make more of their ethical credentials. In the discussion, Jeremy Silverstone mentions Henley Business School and research conducted there about the success of ethical business.
Conversations about dying: An article in Business Live ZA reviews a book written by Helena Dolny (HBS Africa) on conversations about death and dying.
Also in the news:
An episode of Escape to the Country visits Silchester and speaks to Archaeologists from the Silchester Town Life project, aired on Really.
Daily Mail article on the tragic death of conservationist David Hoyle, who studied at the University of Reading.
The Ham and High reports on the retirement of fifth generation family baker Christopher Freeman, who studied at Henley Business School.
<!--[if !supportLists]-->

Image credit: Staff Sgt. Kyle Davis, US 10th Mountain Division soldiers in Afghanistan, 2003. Public Domain, accessed here.