Buses for Mexico, saving our lakes and Glengarry Glen Ross: Reading in the News - 24 August
24 August 2017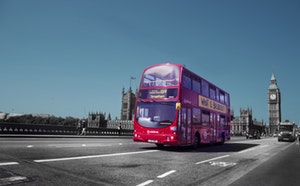 Saving our lakes from climate change: Research conducted by Dr Iestyn Woolway (Met) on the impact of climate change on the temperature of lakes in Central Europe is featured in an article in Deusche Welle. Dr Woolway is quoted.
Turbulence: BBC Business have covered research by Dr Paul Williams (Met) about increasing turbulence due to climate change.
Mexican bus deal: Dr Mark Shanahan (Politics) spoke to BBC South Today about a deal to provide red buses to Mexico City. The deal, which was signed in 2015, has been championed by PM Theresa May on a visit to the bus manufacturers in Guildford; and Dr Shanahan comments on the Government support to make sure the deal was delivered.
National theatre: A new exhibition of posters showcasing posters from the past 50 years of the National Theatre has been curated by Prof Rick Poynor (Typography), reports The Stage and Theatre News.
Weather reporters: BBC Berkshire (7 mins in following the news) ran a feature speaking about weather forecasters, noting that reporters including Jay Wynne, who works for the BBC, studied Meteorology at the University of Reading.
Also in the news:
Prof Bryan Cheyette (English Lit) has reviewed a book about anti-semitic persecution, The Many Deaths of Jew Süss for Times Higher Education.
Healthcare Dive have reported on a deal in the probiotics market, noting that company OptiBiotix have worked with Professors Glenn Gibson and Bob Rastall (Food) to trial their probiotic LPLDL®.
<!--[if !supportLists]-->